With an MB Crusher Bucket, we overcome logistical concerns.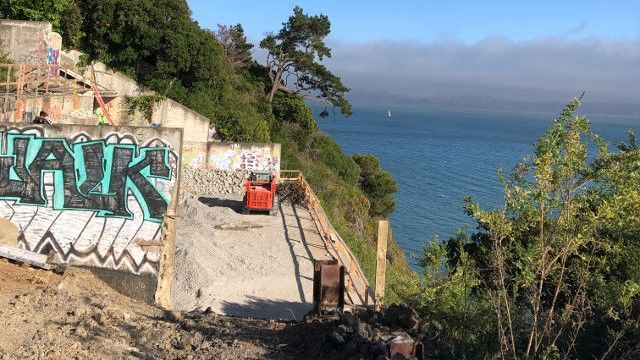 Winding roads, impossible terrain, hillside job site. A nightmare for any demolition job.
These issues and more were challenges Jamba Construction - California - faced when they accepted a demolition job to tear down 2.5 acres of property covered in concrete and lava for the past 30 years. The job site sat on the side of a steep, volcanic rock riddled, hill with little to no access to the physical location.
This is where the challenges first began...
how do you get machinery big enough to demo concrete walls, floors, and pillars down to the site safely? ...once the machine gets down to the site, how do you navigate it around the site?
There was hardly any space to move, let alone any actual roads to transfer a heavy machine around, not to include all the dangerous crevices...
Luckily Mark Swanson, CEO and founder of Jamba Construction had already found a solution in MB Crusher. Mark purchased an MB-L140 S2 crusher bucket, which is highly portable. Capable of crushing up to 14 cubic yards at a 1-inch minus an hour. Powerful enough to crush down the concrete mass that stood on site.
"We would've had to import those material, which is a real logistical concern because getting trucks and ten wheelers up to the site is dangerous.
Or getting material over the water is not only dangerous but costly as well, and once we get the material on the beach, getting it up to the job site is a whole other endeavor; like using an expensive conveyor system [...]". - Mark Swanson, CEO.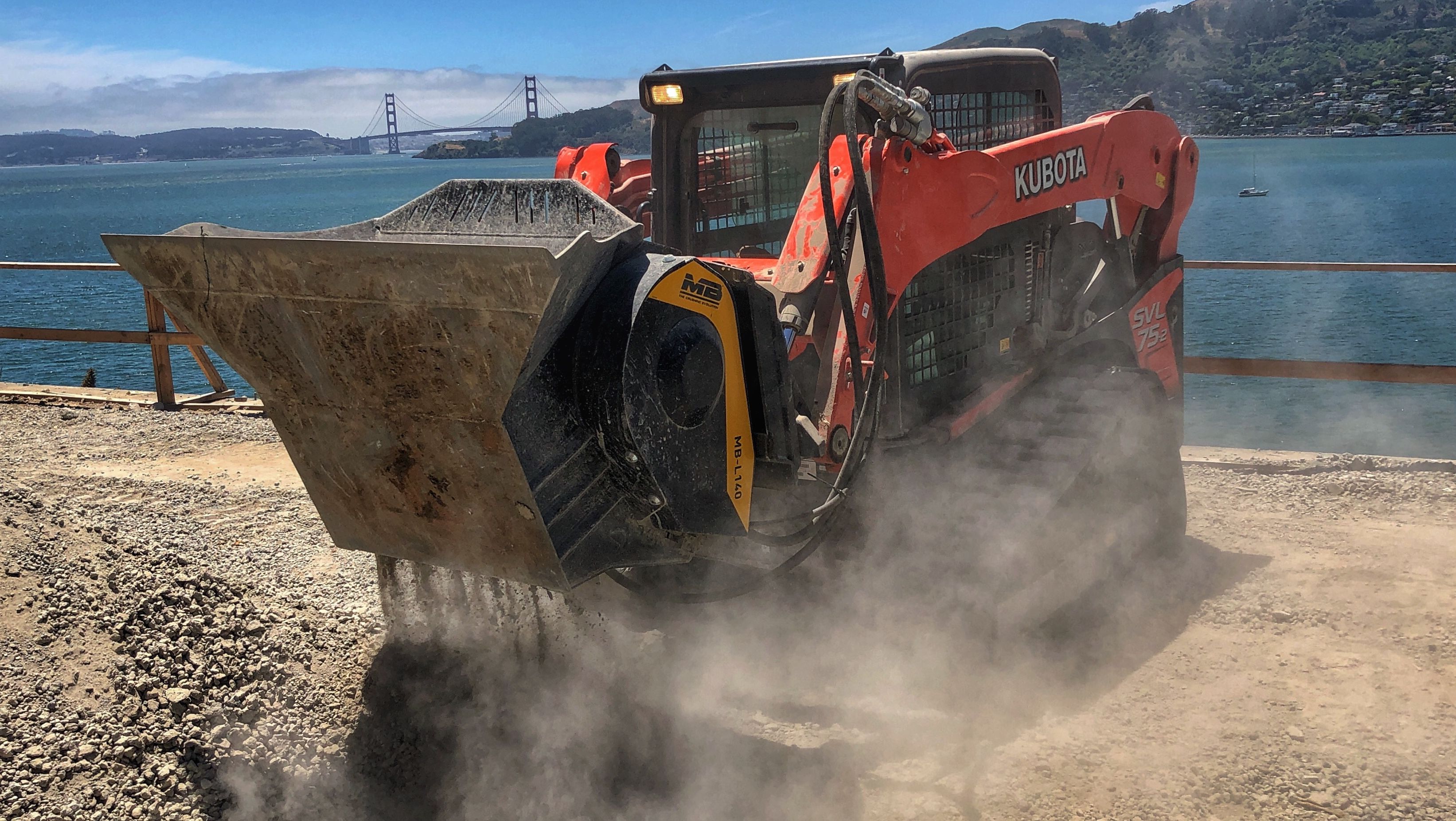 That crushed down base material was then used in various ways, from creating a drivable road to navigate the site, to filling a massive void left by the remnants of an old pool, and not to mention filling an unsafe 40ft shaft left in the earth from a once used elevator. All this material was created directly on-site from the crushed down concrete and rock.
-- How much have you saved using the MB crusher and would you use it again? --
"It's tough to put a number on overall savings, but with respect to filling voids, the crusher was then invaluable. I would say we probably saved about 50% of cost on importing base materials to use as backfill. I look forward to finding another job site for this crushing attachment. This bucket was incredible on this site with regards to the limited access and limited mobility but having a tremendous amount of material to demo."
-- Final thoughts? --
"I would like to say that generally when you buy a new attachment, and you don't have a lot of familiarity with it, you're a bit apprehensive. And the first thing I noticed when this was delivered to us was how strong and tough it looked as far as constructability it's a real solid piece of equipment.
But you can't help but wonder if it'll really perform and then like most things in life the performance is not evident until you use it. And as you can see all the material, we've produced with it, this bucket is worth its weight in gold and exceeded our expectations."
Jamba Construction was a perfect example of how MB's crusher machines​ can bring a tremendous benefit to any job site. Whether there be challenges in logistics, creating reusable material on-site or simply cutting cost in transportation and other fees relating to the movement of material.
As Mark stated above, the performance is not evident until you use it.