Not really landscaping boulders
For their next project, Big Sky Land Management took on the task of handling glacial erratics in Montana's mountains.
Glacial erratics are rocks transported by glaciers, sometimes for hundreds of miles, and then left behind when the glacier melts. The rocks come in a variety of sizes, from a pebble to a large boulder, and the company was fortunate enough to have the full range of sizes, with the largest being 20 feet tall and 20-ton boulders. When concerns about how much money they were spending and how to manage the material came up, they had to reevaluate their current process.
"The biggest challenge is taking a useless product and turning it into something we can use on a very remote job site"
When Justin Miller, the CEO and founder of Big Sky Land Management, explained their challenges, we noticed some commonalities: accessibility, time, and transportation.
"Well, we are working on a very remote job site up here, and trucking is a big issue, bringing material could take up to two hours," he said. Even after waiting for the material to arrive, they only received 10 yards of material.
Working in the mountains, trucks bringing the material to them, and disposing of the rocks was more expensive than if they were located in the city.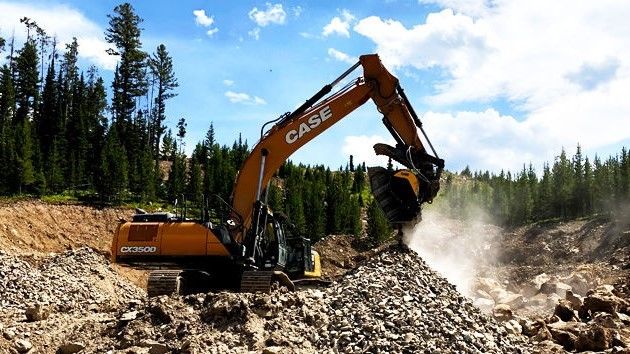 They had to reconsider their current system of hammering the boulders down and waiting for trucks to bring material and began looking for other options. Their priority was finding a solution that manages the glacial erratics and the additional challenges their project presented.
While researching for solutions, they stumbled on MB Crusher's BF120.4 crusher bucket and saw it checked off all the boxes:
a portable unit, attached to the excavator;
allows them to crush the erratics and choose the output size;
and reuse the material on their current or future projects.

"It's

changed our dump truck laps from two hours to more like 15 minutes"
Once the crusher bucket arrived at their job site and got to work, they saw the benefits immediately. "Currently, [the BF120.4] 's making, maybe, sixty yards an hour out of the 5-inch minus," Miller told us. He even said that they've been able to use the crusher all week for most of the day and have turned rocks that they would have thrown away and into road base, saving them money.
As they continue to work on the project, Miller is already making plans to crush the rocks down to a ¾ inch minus so they could use it as structural fill.
With the Jaw Crusher BF120.4, they created products out of materials otherwise thrown away but also reused the crushed boulders on their job site. As Big Sky Land Management continues to take on challenging projects or find new uses for their unit, the BF120.4's versatility will be there to help them do the job.