2 new shaft screener buckets join MB Crusher's product range
14-03-2022
Designed and created for gardening, landscaping, and urban job sites, the new MB-HDS shaft screener bucket combines efficiency and versatility, making it the solution for complex job sites.
MB-HDS207 and MB-HDS212 shaft screening buckets: two incredible machines
These two shaft screener buckets are compatible with mini and midi excavators, backhoe loaders, and skid steer loaders, making them perfect for small job sites.
MB-HDS207: weighs 98kg for mini excavators with an operating weight ranging from 1.3 to 2.8 tons.
MB-HDS212: weighs 480kg for midi excavators with an operating weight ranging from 5 to 10 tons; for backhoe loaders from 8 to 9 tons; and for skid steers loaders from 4 to 5 tons.
Thanks to their "digging bucket" shape, the units are optimally designed to collect and process materials.
Because of this, these two attachments are easy for operators to use.
Want to know if they're compatible with your mini excavator?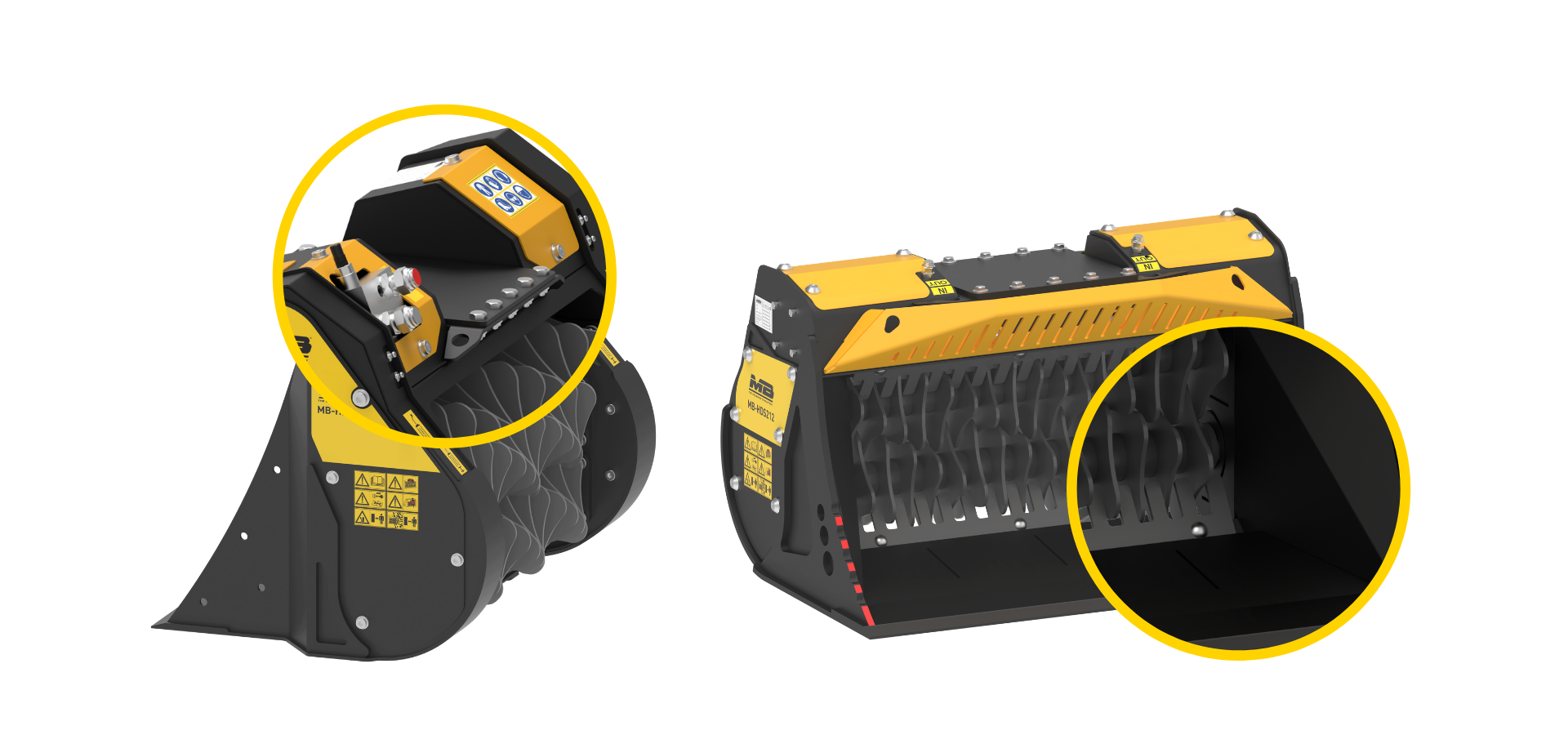 Technical features
The coupler attachment is located in the centre of the machine and is lowered than the rest of the design, creating less wear on the frame, greater manoeuvrability and more precision and control.
Due to their designs, both units help increase productivity.
Thanks to the fixed cover, the gears and other inside parts of the machine are shielded from potentially harmful materials (sand, dirt, etc.)
The welded covers in the back of the machine protect the bolds and side casings.
The shape of the MB-HDS212 shaft screener allows the material to travel toward the shafts and increase productivity.
The operator can easily replace the shafts on site.
Maintenance is simple and happens directly on site.
The shaft holder is included.
And
The load capacity kit can be installed on the MB-HDS207 to increase its load capacity from 50l to 60l.
The MB-HDS212 shaft screener is compatible with skid steers.
How much do the units cost?