How to deal with the material shortage on an island
07-03-2022
Is building internal roads on an island an arduous job?
With MB Crusher units it became effortless and connecting roads are created linking remote areas to society without the need to outsource the materials for the job.
And MB Crusher unit can do much more…
Henhancing the use of the excavators is the key to crushing down material shortage, even in remote locations such as islands.
How? Using MB Crusher attachments to transform any brand of excavators into a mobile jaw crusher able to go anywhere, even to develop areas where there are no roads. YET.
Are you experiencing delays on your project due to material shortages? Get in touch with our consultant they can offer a solution.
Is material shortage putting on a standstill on remote areas developments?
Is the lack of shipping containers causing delays in island infrastructures?
We are showing 4 ways to avoid drawbacks.
Create connecting roads
Fair point: there are no roads in the middle of some islands. But where the excavator can reach with an MB Crusher unit attached to it, it is transformed into a mobile jaw crusher and:
all the rocks laying around are quickly reduced and reused to build the missing roads;
no lorries full of aggregates are needed.
Are you involved in road contrusction in remote areas?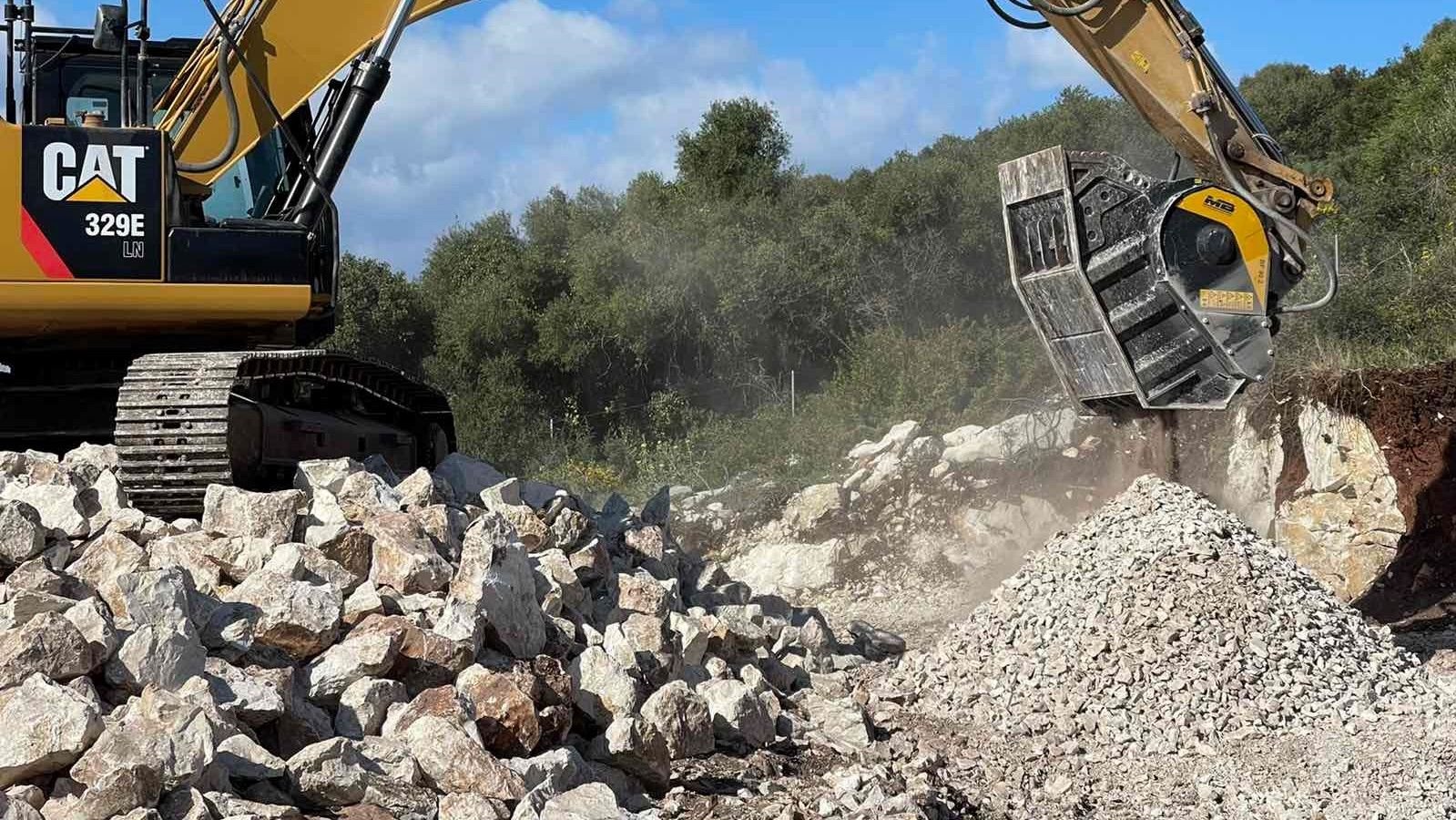 Build new houses
Holiday destinations like the Greek islands, are in constant need to build tourists accommodation. In Meganissi, a small island with a population of around 1000 people to build villas they used an MB Crusher unit. The BF90.3 mounted on their Caterpillar 329E is crushing sea rocks:
to create the aggregate needed for the construction;
they did not need to bring in further machines or materials by sea from the larger island of Lefkada.
Are you wondering if the rocks in your area can be crushed?
Rebuild from debris
In the Caribbean, in Puerto Rico, the old Costa Salud Aguada hospital was dismantled and the crushed down concrete reused as the foundation for the new Health Prevention Center building.
Limiting the need to purchase filling materials.
Avoiding taking the debris to the landfill.
Use YOUR carrier
Do you only have smaller heavy equipment? No worries, MB Crusher will have a unit suitable for your carrier. On one of the islands of the archipelago of Stockholm, Sweden, a Case TR340 skid steer has become a mobile jaw crusher after installing an MB-L140. Crushing local stones to be used for gardening.
Without having to purchase material from mainland.
Without having to wait for the deliveries.
Do you have a stockpile of debris to be crushed, use your excavator to process it.
Islands are isolated and remote, if material shortage can be avoided there, by reusing what is locally available, it can be done anywhere else, with ease.