We're able to extend our working season through rainy days and manage soil, bark, and wet clay.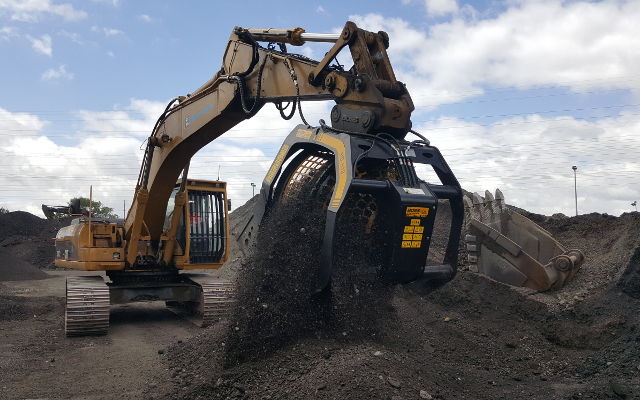 MB Screening Attachment Solves California Company's Soil, Bark, and Wet Clay Problem
For Timberline Tree Service, Inc., a powerscreen could not effectively break down wet clay at its facility. But a trommel screening attachment would.
Initially, Timberline Tree Service, Inc. was looking for a machine to screen soil and bark. Once Tyler Willett, president of Timberline Tree Service, discovered MB Crusher's screening attachment at World of Concrete 2016, he set out to ask questions about this product and how it could help him manage his material.
Speaking with a MB area manager about his current dilemma with soil and bark, Willett also mentioned a common problem at his company: working with wet clay chunks created by rain.
MB Crusher had a solution for him. The area manager explained to Willett a process that could help him break down the clay chunks by placing large rocks into the MB screening attachment. The large rocks would allow the wet clay to be screened through the screening panels.
This was enough for Willett to purchase the MB-S18 screening model with 2-inch screening panels for his company. Timberline Tree Service will be able to extend its working season through rainy days and manage soil, bark, and wet clay.
A year after Timberline Tree Service's initial purchase of the MB-S18, the company has added another MB screening attachment to its line-up to further increase its production.
"We're happy to provide Timberline Tree Service with the equipment they need to do their job. This is the kind of solution we had in mind when we started MB," said Miriano "Max" Ravazzolo, C.E.O. of MB Crusher America. "I am very happy that we can be a part of the solution for Timberline."