Come to Booth 1206 to see MB's latest product line and discover the new options MB has to offer you.
These machines are designed for a wide range of excavators, skid steers, and backhoe loaders.
MB America to feature crushed materials at National Demolition Association
MB America will be attending the National Demolition Association (NDA) for the fourth year. This year, the company will feature a display of crushed concrete, asphalt and rocks produced by MB's BF90 crusher attachment.
The crushed material will give attendees a visual of the various sizes the MB crusher can crush down to. The company's BF product line – and its other crushing attachments – has an adjustable output and uses the auxiliary hydraulic system on excavators, skid steers and backhoes.
"Imagine what you can do with your materials if you could crush them yourself. You will have that flexibility when you see the materials the MB crusher can produce," said Max Ravazzolo, C.E.O. of MB America.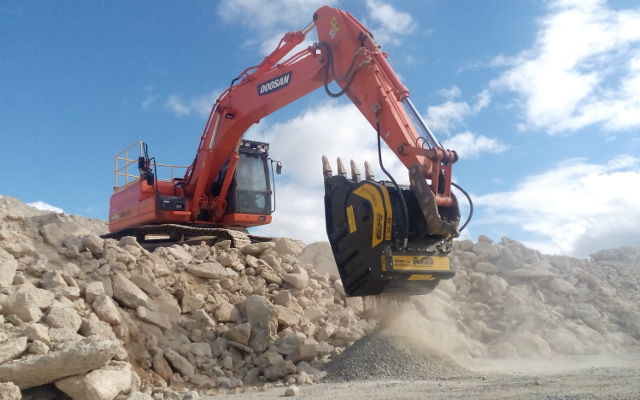 MB's crushing attachments allow contractors to crush materials – which otherwise would be considered waste – to reuse on the job site. Its crushing attachments have the ability to crush railway sleepers, hollow core walls, reinforced and non-reinforced concrete, natural stone and asphalt into reusable aggregate materials for base or fill.
Contractors will be able to reuse materials immediately at the job site and provide a greener option in recycling waste materials. By reusing the materials, contractors and businesses can save time and money in reducing waste and trucking costs.
MB's product line includes crushing and screening attachments, 360° grapples, and rotary head drum cutters for a wide scope of work -- which includes demolition and excavation, road work, quarries, mining, pipeline work and environmental reclamation projects.