A new life for old asphalt
18-12-2020
Most roads we travel on have a top layer made of asphalt. The use of this material is very common because asphalt is known for its durability. It is also very easy to produce, compared to other material, which translates into a higher ROI for many companies in the construction industry.
Not only that, but we can also state that asphalt is a renewable source, since it is 100% recyclable:
This reduces the extraction and use of petroleum and other natural resources: which is great for the environment
It also reduces fuel, hauling and waste disposal costs, lowering a company's reliability on asphalt production facilities: which is great for the company's wallet.
RECYCLING OLD ASPHALT EASILY, RAPIDLY, AND WHILE MAKING A PROFIT
With the MB mobile crushers, asphalt can be processed and transformed into a new revenue source for your company. How? By crushing asphalt down to the right size, it can be reused as base or sub-base material on a number of different job sites. Let's see how:
LANDING STRIP
A customer in Iceland needed to begin the construction of a new landing strip at the local airport. Like on most islands, construction companies have to deal with high expenses and delays for the purchase of material from the mainland.
Thanks to the BF70.2 crusher bucket, they reclaimed the old asphalt in one step, then applied it as a base for the new airstrip.
ROAD SUB-BASE
A company in Chile recycled old asphalt and used it as base material for a number of applications. This was done by using an MB-L200 mobile crusher, allowing the company to:
save on the purchase of clean material;
cut on downtime for material procurement;
reuse the material on multiple job sites.
RECYCLING MILLED ASPHALT (RAP)
One of our customers in Brazil, is crushing milled asphalt with a BF70.2 crusher bucket. This compact and versatile tool can work on any job sites, adapting to the smallest of locations.
The customer was able to save on:
hauling expenses;
material disposal costs.
If mixed properly RAP - Reclaimed asphalt pavement has the same features of paving made from new aggregate.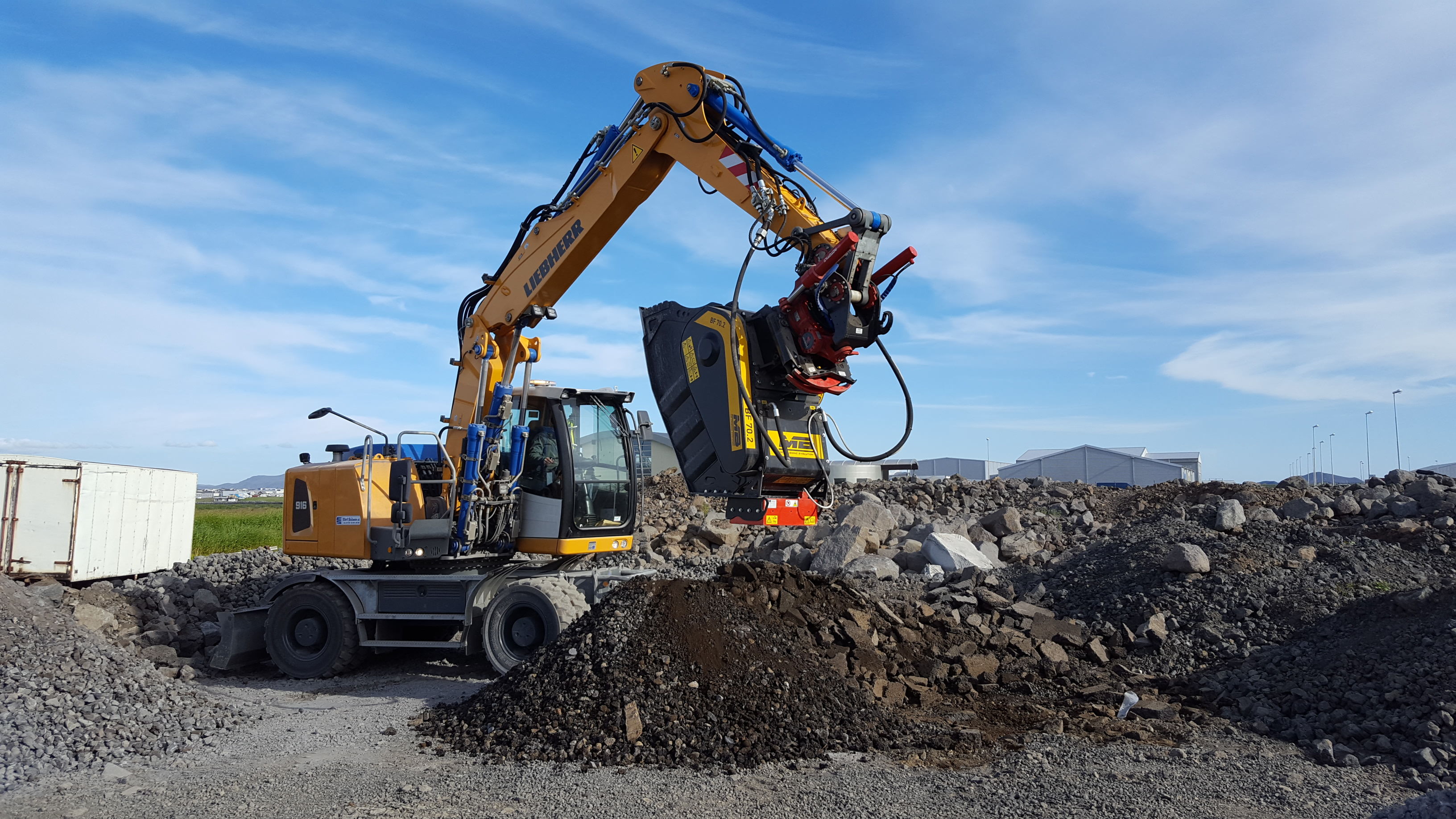 USING RAP MATERIAL MEANS:
reducing our environmental impact
conserving natural resources
reducing material loads at landfills
cutting aggregate production costs and time
to eliminate hauling expenses and downtime on the job site
This translate in large savings for the company, while respecting deadlines and being more autonomous and competitive on the market.
Let's not forget that milled asphalt is 100% recyclable!