Companies dealing with construction, road work repairs, demolitions, paving, and city and urban landscape redevelopments. When faced with leveling job sites, companies deal with high management costs and many critical issues aimed at protecting the environment.
The priority is managing the excavated material in an inexpensive way for the company and minimizing the impact on the community.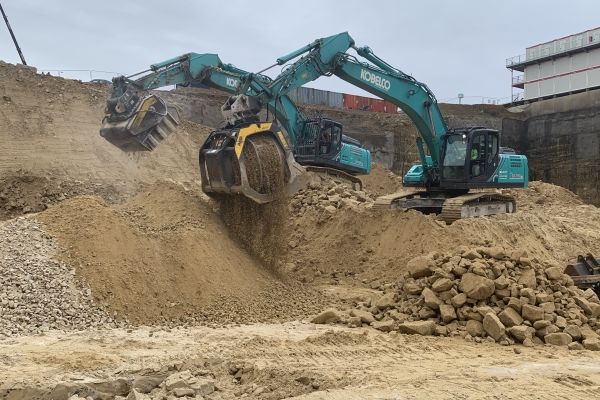 TODAY, IT'S POSSIBLE TO MANAGE EXCAVATED MATERIAL AND MAKE THE PROCESS PROFITABLE. THE SOLUTION? MB CRUSHER
Companies can now manage earthwork and excavation projects in a cost-effective way by adding a single unit on the job site. An innovative solution is using an attachment installed to an excavators already present on site and is more powerful than a stationary crusher.
The unit is mobile, versatile, and doesn't require special maintenance.
For leveling jobs worldwide, MB Crusher's units crush all excavated materials and free construction sites from handling and disposal costs.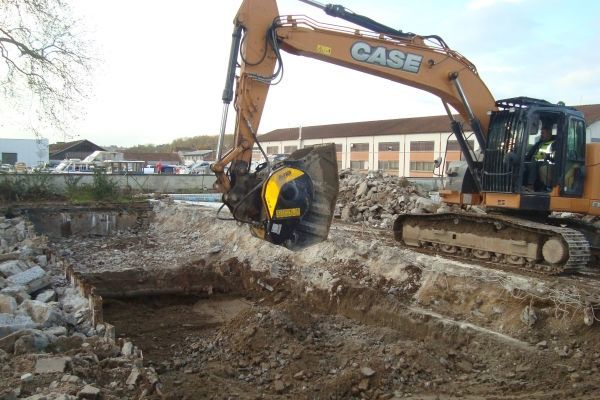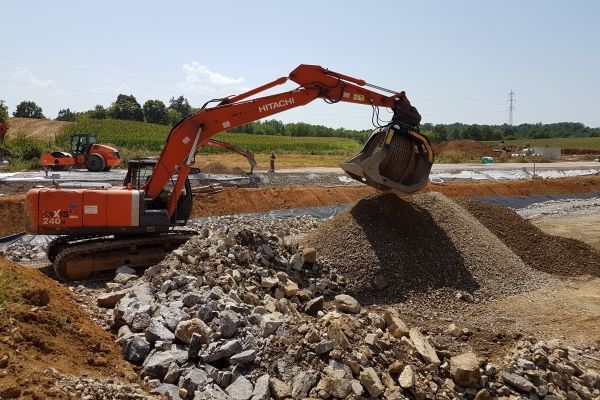 DISCOVER MACHINES THAT ELIMINATE TRANSPORTATION COSTS FOR EXCAVATED MATERIALS
MB Crusher units turn any excavator into a powerful crusher and an effective screener and come with all the advantages of equipment that is easy to transport and manage. The attachments do not require their own transportation, they easily arrive on the construction site where they process all kinds of excavated material, then select it, and make it immediately available to use as backfill or for other processes.
These attachments work without interruptions and produce huge quantities of material in a day. Everything happens on site without having to assume the costs and downtime due to trucks transporting materials to the recycling or disposal centers.
CRUSHING, SCREENING, AND RECYCLING:
THE CONSTRUCTION SITE BECOMES SELF-SUFFICIENT AND GENERATES REVENUE
MB Crusher units are designed and built to make excavated material available for reuse without moving it elsewhere.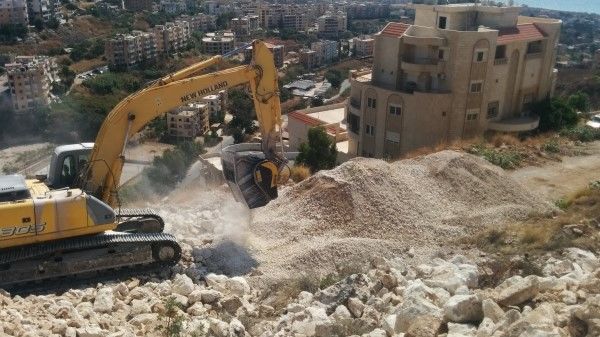 DO YOU NEED TO CRUSH HARD AND STONY MATERIALS SUCH AS CONCRETE AND COBBLESTONES?
MB Crusher's jaw crusher installed on an excavator is easily controlled by the operator, and from the cabin, obtains the excavated material to be reused for backfill: an immediate advantage for the construction site.
Additionally, the output size can be adjusted in a few minutes by adding or removing the shims inside the crusher: a competitive advantage that can be used to sell materials.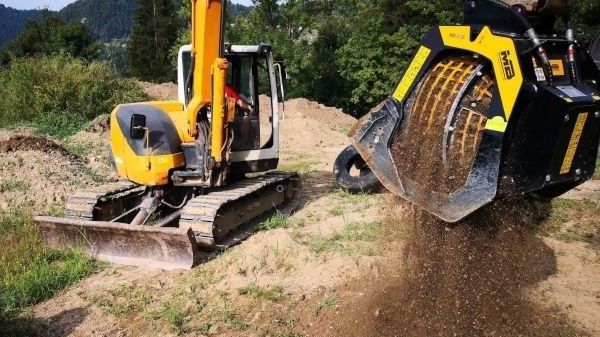 IS YOUR GOAL TO SELECT EXCAVATED MATERIAL, OR SEPARATE AGGREGATES FROM SOIL?
With MB Crusher's screening bucket installed on an excavator present on site, you get to precisely select material. The unit is easy to install and can separate huge quantities of waste, sometimes recovering 100% of the resources.
The economic advantage is concrete and immediate: reduction of transportation costs, purchasing raw material, and saves time.
THOUSANDS OF YARDS OF MATERIAL MANAGED ON SITE WITH BENEFITS FOR THE ENVIRONMENT AND COMMUNITY
no to landfill disposals
no pollution from vehicles traveling to and from the job site
yes to reduced CO2 emissions
yes to protecting the environment by reusing materials
yes to citizens having more access to routes
yes to a decrease of dust and noise emissions
yes to recycling on the spot
WITH MB CRUSHER'S RANGE OF ATTACHMENTS, LEVELING JOBS GENERATE REVENUE
Companies utilizing MB's crusher and screening buckets recover waste without delays and makes the company more competitive;
the material obtained with MB Crusher's units is transformed into revenue: it can be reused immediately on site to create road foundation, drainage systems, backfill, and other jobs;
the material processed by MB Crusher machines transforms into a new business opportunity: it's ready to resell to the market;
maintenance is quick and simple: it does not require specialized personnel or expensive downtime for the entire construction site;
MB Crusher's attachments are designed to crush and select material in confined spaces, ones where there are no access roads or in complex areas where it's densely populated;
crushing and screening times are reduced, and wear costs are minimized;
MB Crusher offers peace of mind, with 24-hour assistance on five continents.
Discover the range of crushers and screeners dedicated to earthwork and excavation projects
and works independently to gain new business opportunities.
They are compatible with any excavator and adapt to all construction sites