Surprising, but true! How to tackle an unusual job with MB
24-06-2019
"Call & Resolve" is an innovative service provided free of charge to building site professionals

Unusual times call for unusual measures.

Call MB Crusher for surprising solutions.

Using the new Call & Resolve service, MB Crusher makes available to construction companies all of its invaluable know-how and experience in the field, providing solutions for your next projects, be they complex, temporary, unusual or exceptional, so that you can make use of the proper machinery.

At this purpose we travelled around the world to take a look at our Customer's most peculiar and complex jobsites.
Here come some stories.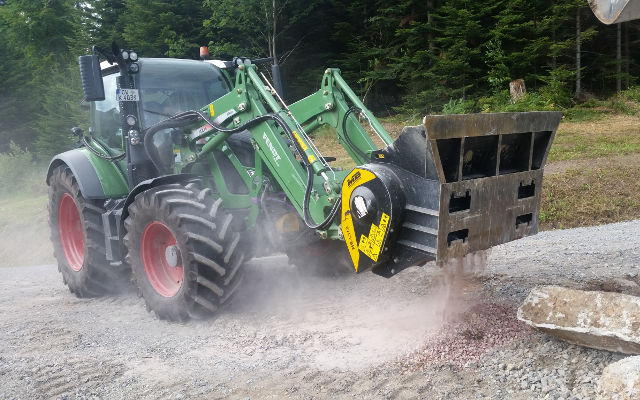 One such example regards the German company Kübler, specializing in the agricultural and metallurgical sectors.

Their construction site had a large quantity of waste material from a prior demolition job, along with the remains of granite blocks used for the construction of grave stones.

They opted to make use of an MB-L160 crusher bucket, smashing the material right there on the spot to obtain a dual benefit: earnings from the resale of the material and a diversified business application.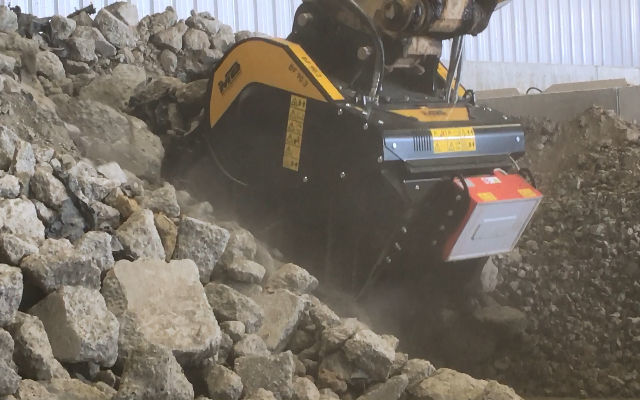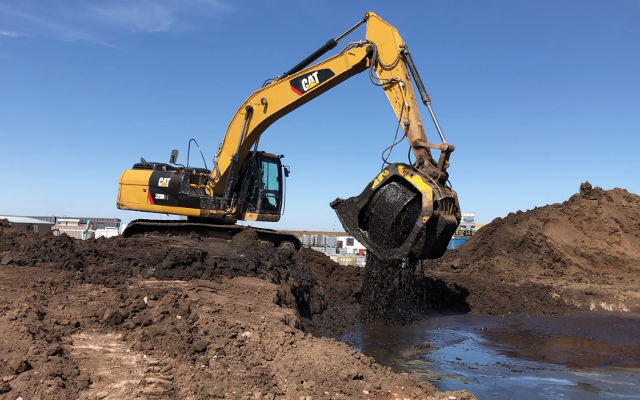 A company in the United States, on the other hand, was looking to dismantle and dispose of radioactive concrete pillars. They used two BF90.3 crusher buckets mounted onto Caterpillar excavators, safely and quietly crushing the material directly on site.

Another extraordinary case was that of a Latin American company that treats hazardous waste derived from soil drilling: the goal there was to separate the aqueous and solid portions in the presence of oil.
They used an MB-S18 screening bucket on their Caterpillar excavator to separate the materials and then reuse them to produce new drilling mud. Perfectly to the benefit of the worksite's profitability.
In France too, the use of an MB-LS170 Screening Bucket allowed for the sorting of ferrous waste from an incinerator, separating it from ash and reusing it in automotive industry processes.
And then in Mexico, in a plaster quarry. Instead of using costly and inaccurate explosives, a company made use of MB Crusher Drum Cutter MB-R800 to reduce the material into tiny stones, just a few millimetres in diameter, avoiding large quantities of dust.
In conclusion, in Italy, in Trentino Alto Adige in late 2018 a strong storm swept away hectares and acres of woodland. To move and arrange the tree trunks, a company used an MB-G900 Sorting Grapple mounted onto a Hyundai 210.

There are many more stories from customers who resolved unusual jobs thanks to MB's products.
So, how does this new service work?

People who need support call us and we make available our long standing experience, along with the expertise of our technicians. We've now broadened this department, allowing us to provide just-in-time responses, even for the industry's most bizarre requests.
With providing this service, MB Crusher takes an important step in reaching out to operators in all sectors, offering its know-how to those who want to turn difficult situations into business opportunities.

All that's left is for you to: "Call & Resolve"!