From enormous job sites or small spaces to steep and uneven environments. Areas that are difficult to access, high temperatures, limitations tied to hourly production and hauling expences, are just a few of the challenges surrounding extraction activities.
In this situation, two key factors can change how profitable quarries and mines are. Reducing the logistic costs surrounding stationary recycling plants and reusing extracted materials, especially waste such as quarry scraps, is often a loss in the company's books.
IT'S POSSIBLE TO REDUCE LOGISTIC EXPENSES AND RECOVER WASTE.
HOW? WITH MB CRUSHER'S PATENTED ATTACHMENTS
Any mining material can be processed on-site and can be reused immediately with one machine: MB's crusher bucket.
The crushers can be moved without needing extra or specialized transportation; the unit hooks up to any excavator and immediately starts working. The crusher reaches any location, even inaccessible areas or ones that have limited space, and works tirelessly, crushing any material once it's been extracted. The unit guarantees smooth production and reduces hauling and disposal costs.
Furthermore, you avoid temporarily storing scraps on quarry yards, freeing up essential space needed for vehicles to access the area.
CRUSHING, SELECTING, AND RECOVERING:
QUARRIES AND MINES ARE AUTONOMOUS AND INCREASE PROFIT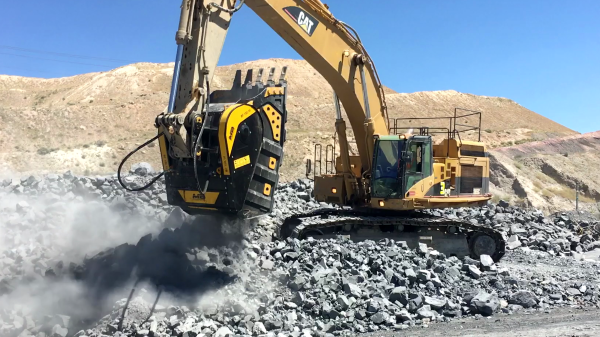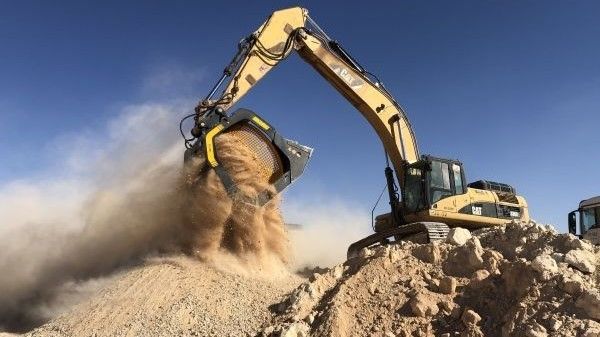 MB's range of crushers and screeners dedicated to quarries and mines, allow you to process any extracted material on the job site and immediately reuse it.
The jaw crusher reduces the waste down to your desired size, the material can then be used as fill, for example, on perforation jobs or as road base for paths to and from the site. The operator, seated inside the excavator's cabin, can let MB's crusher work full capacity for several hours without potentially damaging the equipment.
MB Crusher's screening bucket, when installed on an excavator, can select and clean material on any site, to obtain new and resalelable resources. All of MB's solutions enhance the productivity at quarries and mines, by working non-stop and transforming waste into a source of income.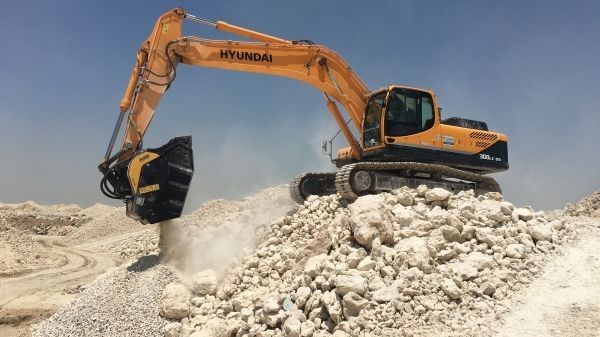 Scrap material can be sold for different applications and sectors:
✓ granulates for construction and railway ballast
✓ aggregates for concrete
✓ mixed granulates for fill and crushed material for bituminous conglomerates
✓ substrate material
✓ Immediate economic benefits for operators in the industry
Environmental advantages:
✓ less waste and exploitation of the quarry
✓ eliminating the need for trucks
✓ balancing the territory by reusing materials
✓ reducing CO2 emissions
WITH MB CRUSHER UNITS QUARRIES AND MINES CAN INCREASE THEIR REVENUE STREAM

Companies utilizing MB's crusher and screening buckets transform excavated material into fill, while eliminating downtime and making the company more competitive;
Material crushed and screened by MB Crusher units becomes revenue: it can be immediately reused on-site;
Materials processed by MB Crusher attachments are now a new business opportunity: ready to be marketed;
Maintenance is quick and easy: it doesn't require specialized personnel or lengthy downtime for the entire construction site;
MB Crusher units are designed to crush and select even in the most disadvantaged, and confined spaces; those with no access roads or in complex areas, such as places with a large population;
Crushing and sifting times are reduced, as are costs surrounding wear and tear of the machines
MB Crusher offers security with patented technology, availability, and 24 hour assistance on five different continents.
Discover the range of crusher, screeners and drum cutters dedicated to quarries and mines
and work independently to create new business opportunities.

They are all compatible with any brand of excavator and adapt to any mining site.