When Reduce - Reuse - Recycle means Save time - Save money - Save the planet
A company from Ljubljana has found a cost-effective solution to process all the rubble
Specialized in residential buildings, this company from Ljubljana has found a cost-effective solution to process all the rubble, asphalt and debris of their operation.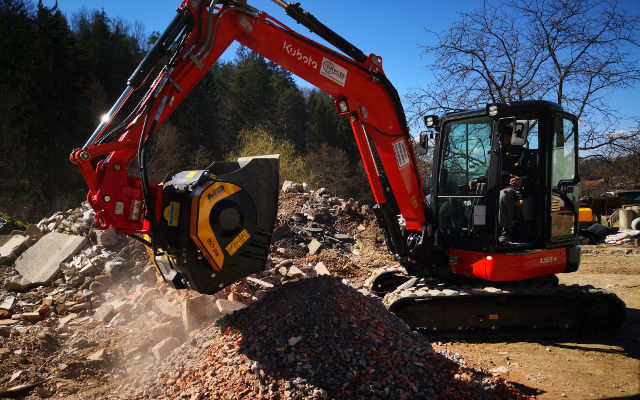 The cost of transportation and landfills : a big concern
With the cost of transportation and landfills always increasing, they needed a simple way to process the material so-called waste, in order to reuse it.
Cost-effective process with a positive environmental impact
They bought an
MB Crusher Bucket MB-C50
, a practical jaw crusher that weighs less than a ton, and they were able to save lots of money; moreover they
reduced the costs
of their projects. When they have lots of material, before they start to reduce it, they separate the rough material from fine with a
Screening Bucket MB-S10
.
This simple step significantly
reduces the time
of crushing. But the advantages don't end here, the company have already obtained an
environmental permit
to process
construction waste
, reusing the
debris
represent a strong plus in
reducing waste
and at the same limits the amount of natural material needed.
A compact recycling center
By simply attaching an MB Crusher unit to their excavator, they were able to:
Reduce material on site;
Separate and reclaim all material available;
Work in respect on the environment;
Obtain a circular economy.