Cost-saving and entertainment!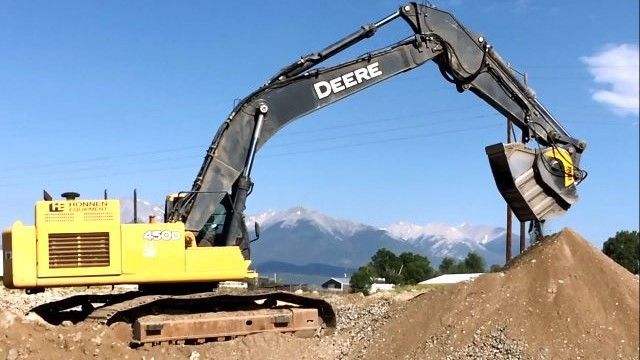 My first impression of the machine was: entertainment!
This is how Howard Houghton III and Tabitha Hapl from Avalanche Excavating described the MB Crusher units. But there were many advantages we learned in our conversation with them.
Cost-saving in groundworks begins with the right machines.
The rising cost of fuel, the legal requirements for emissions and environmental protection can be subdued by using MB Crusher attachments. Let's hear it from the horse's mouth...
Tabitha Hapl admitted: "A lot of people have never seen anything remotely similar to what this machine is capable of doing".
Growing your business while the fuel price is rising sharply and legal requirements tightening the net can seem like a struggle. Unless you lower running costs.
Avalanche Excavating guide us through the cost-cutting provided by an MB Crusher bucket BF90.3 and a trommel screening bucket MB-S14 as an addition to their fleet during a project in Salida, Colorado.
Really quiet
Low on dust and fuel consumption
Amazing way to run through any materials
These were the impressions they had when they first saw the jaw crusher bucket at work.
Lower your fuel consumption and servicing, choose an MB Crusher attachment.
We have saved tremendously from our total trucking purchasing, our hauling, our overall expenses, our fuel …..everything! By at least 30-35 % and then we purchased a screening bucket to save even further!

By purchasing an MB's jaw crusher bucket not only did they solve the problem of transporting the waste material to be crushed in a processing facility, but they also saved at least 30-35% on the project.
So Avalanche Excavating added an MB-S14 trommel screening bucket to its equipment line-up to reduce costs further. With the screening attachment, they screen the already crusher material to create more products, to the point that the company has begun to sell part of its Class 5 and Class 6 products as structural fill. This is how they obtained it: "Our Class 5 product is straight from the spoils that we had tested through [a] certified lab and it came through our gradation [and] passed it with flying colours," Houghton said.
Behind the choice...low running costs have a massive impact on the total cost of ownership of the machine.
Howard and Tabitha foresaw the challenges of hauling off the waste material to be processed. So, they set out to search the web for a cost-cutting solution and came across the MB crusher bucket through YouTube. Having an MB Crusher Bucket allowed them to:
made their own trench backfill
limit haulage
shuffle graded product around the job site where it was needed
use the unit daily for 8 to 10 hours
avoid buying large crunch of land
no having to buy class 6 e 5 from an outside source and bring it into our project