Giant of crushing
18-04-2018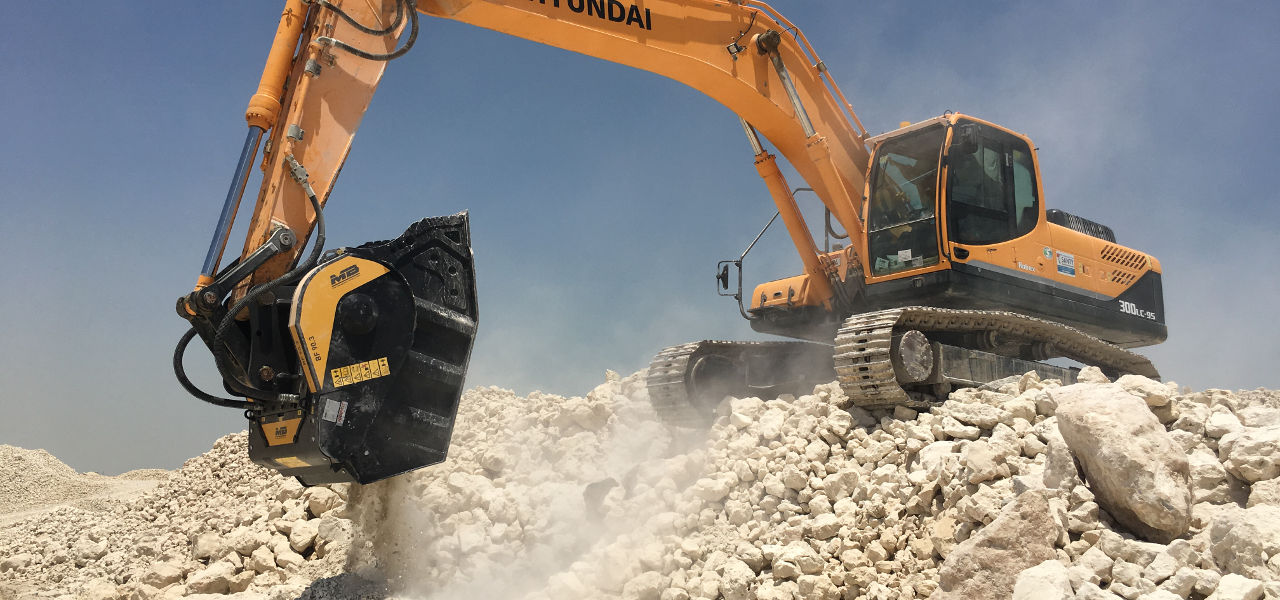 CRUSHING ITALIAN MOBILE CRUSHING SPECIALIST MB CRUSHER HAS FOUND SUCCESS IN THE MIDDLE EAST WITH ITS CRUSHER BUCKETS AND MOBILE SCREENS, USING ITS INNOVATIVE CONCEPT AND QUALITY TO MASTER THE CONDITIONS AND ADD VALUE TO JOB-SITES
[Construction Machinery Middle East, April 2018]
Neither the heat and dust of the Middle East nor the very hard rock in the region can stop MB Crusher equipment from working.
In an area outside Jeddah in the Hejaz region, the secondlargest city in Saudi Arabia, MB's BF135.8 crusher bucket and the MB-R900 drum cutter are working incessantly, day and night, to recover and process many cubic metres of local material. Fitted to a Doosan 420LCV excavator, the BF135.8 recovers aggregates which will then be used for the creating of roadbeds.
Together with the MB Crusher ecocrusher, one of the latest innovations from the company is also being used: the MBR900 drum cutter, the largest model in the range, the only cutter in the world to be fitted with the Direct Drive Twin Motor System, a patented system which allows differentiated distribution of power to the two cutting heads. Once cut, material can be processed with the crusher bucket in order to obtain the ideal size for the creation of roadbeds, or to fill digs. It fits perfectly into the scope of the Vision 2030 plan, a true transformation project which will support the Kingdom for the next few years, placing focus on increasing the efficiency of the government, promoting economic growth, expanding the private sector and creating job opportunities.
"Innovation combined with economic and environmental sustainability – that is the philospphy behind MB Crusher products, the pioneer of the revolution of crushing methods," says Najmedine Sahraoui, deputy GM of MB Crusher in the Middle East.
"The Jeddah project is an ambitious one which will change the face of the country. It is a project that requires cutting-edge machinery, constructed to diversify work and
provide added value to the companies that use it. MB Crusher products are an ideal fit in this situation, created to make a difference in every work-site and transform waste from works into earnings."
Innovative products such as those made by MB Crusher can also make a difference in specific projects such as the National Project Management Organisation (NPMO, known as Mashroat), which will support Saudi government agencies in delivering complex infrastructure projects in line with Saudi Arabia's Vision 2030 plan to modernise the Kingdom's administration.
[...]