Best of Bauma: MB Crusher reveals new generation of shaft screeners
08-04-2019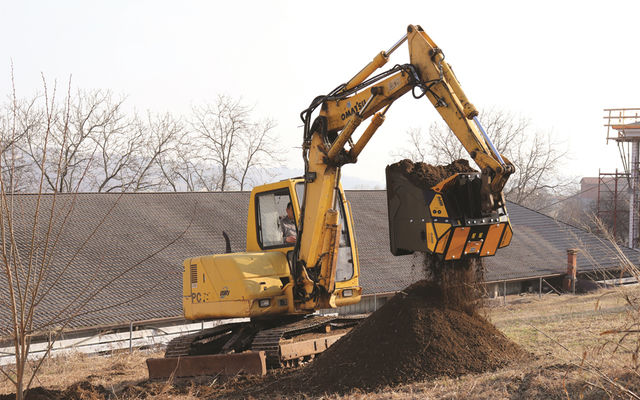 Best of Bauma: MB Crusher reveals new generation of shaft screeners
[Me Construction News, April 2019]
"MB-HDS simplifies job-site materials processing d suitable for excavators and loaders up to 35t
Italian mobile crushing specialist MB Crusher unveiled its new generation of shaft screeners at Bauma yesterday, presenting the new MB-HDS as a solution for those who have to process different kinds of waste rubble, which can quickly be turned into re-usable and profitable material.
Launching the new shaft screener at a preview to an exclusive selection of the global press, Diego Azzolin, production director at MB Crusher, told this publication that the speciality of the new range was its ability to adapt to different types of work and different materials.
'The new MB-HDS series is radically different from all the other systems available on the market. It can adapt to a range of different working environments and can select different types of materials with unprecedented simplicity and speed, without the need for a specialist or special training. Since 2001, when we patented our first crusher bucket, MB Crusher has evolved while remaining true to its purpose which is: to facilitate the work on site and to make it competitive, self-contained and profitable,' Azzolin said.
'What users want is a unit that is able to work continuously, without interruptions for maintenance and to facilitate the processing of materials, which can be very expensive. Over the years we have fulfilled these fundamental requirements, with innovative machines which turn waste materials into opportunities, a key element for many companies nowadays.'"