MAINTAINING LANDSCAPING AND AGRICULTURAL AREAS
Companies in the construction and maintenance of urban and agricultural industry have to face and manage different types of challenges, which often involve expensive costs of managing organic and non-organic waste. How do you manage these challenges effectively, at a low cost, in a short time?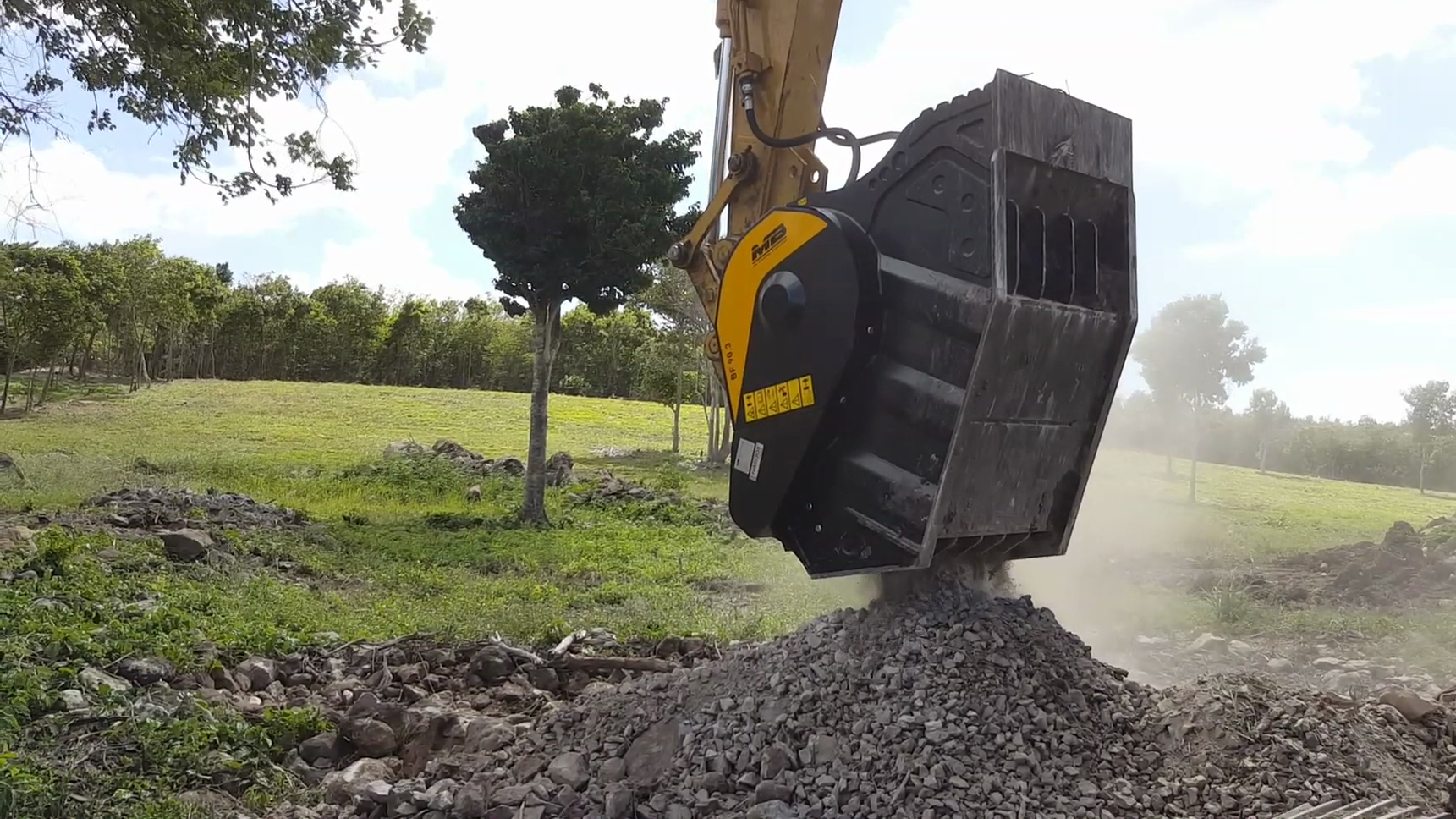 MB Crusher has patented several solutions, which adapt to a variety of application areas, with immediate results:
✓ reducing transportation and disposal costs
✓ increase in profitability for the construction site while benefitting the environment
Organizing a job site is as important as the choice of the machines you use: MB Crusher equipment adapts to the site and brings immediate benefits.
WHERE AND HOW YOU CAN USE MB CRUSHER UNITS TO MANAGE AND MAINTAIN LANDSCAPE AREAS AND ENVIRONMENTAL REMEDIATION. LET'S SEE SOME EXAMPLES: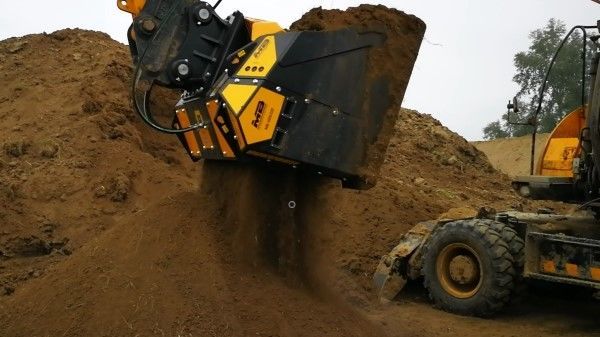 ✓ In challenges where you need to create, maintain, and guard landscape areas such as public parks, gardens, sports fields (such as soccer fields, golf courses, etc), cemeteries, landscape areas attached to road networks, bank vegetation, and the bottom of waterways.
In these cases MB's equipment become indispensable when handling all sorts of organic and inert material from soil preparation works. The results are immediate: seeing a reduction in transport and disposal costs and an increase in the profitability of the construction site while benefitting the environment.
Why? Because MB Crusher's jaw crushers are can be installed on any brand excavator and crush a variety of material, even harder material, down to your desired output size. The material can then be processed with the MB screening bucket, both before and after the crushing phase. Not only that, but with the MB-HDS shafts screener buckets, it's also possible to work with materials such as soil and branches.
It is a great support for the construction site because it is possible to switch from processing one type of material to another type, whenever necessary. Whether it's in the middle of countryside or in isolated places, the rotating shafts change in minutes to handle different materials. No more waste, only raw material that can be reused immediately or sold.
Thanks to MB Crusher's machinery, the materials obtained when processing are no longer waste, but become new materials to be reused or sold. The crushed and screened material is then ready to be reused on site, for example, as fill for foundations or in previous excavations.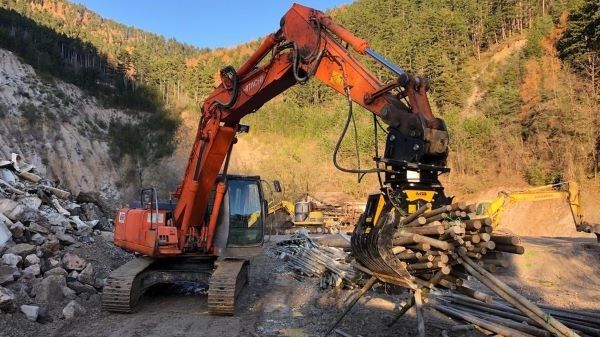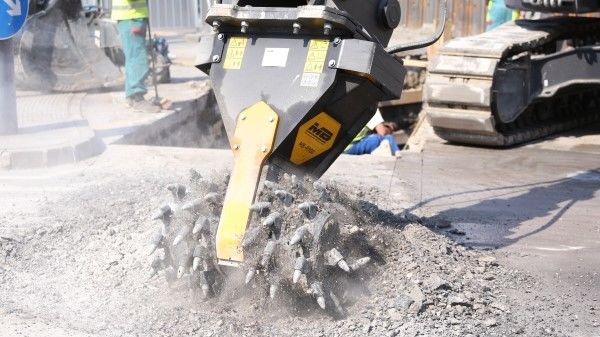 ✓ In challenges where you need to prepare underground systems, such as creating trenches, laying pipes, etc.
The MB-R drum cutter range has been designed to operate with precision during excavations to create trenches or laying down pipes. Due to their precision and small size, they're ideal for applications in sensitive urban areas.
When handling materials, MB Crusher has designed a range of MB-G grapples, designed with the highest technological standards to move any type of material. Even large loads and different shapes, in a reliable and consistent way.
✓ In areas where you have to clean and manage waste from plants, herbs, and wood residue from mowing, pruning, cutting down trees, and their subsequent disposal. In challenges where you need to remove trees and trunks and maintain wooded areas.
A few examples? The MB-HDS range of shaft screener buckets can be used to sift and select branches, facilitate and reorganize and clear the area, while also disposing of the material.
On the other hand, the MB-G grapples guarantee high performance in operations to move and arrange tree trunks in wooded areas.
✓ In challenges where you need to maintain waterways, arrange embankments, clean river channels, and flower beds.
How do MB units work in this situation?
An example would be using an MB-R drum cutter to remove parts of a bridge's concrete walls and part of the bottom of a river, to to widen the bed, and thus increase the stream's capacity.
In this situation, the drum cutter was chosen precisely for its ability to work under water without creating problems for its individual parts.
✓ Environmental remediation work such as site safety, civil/industrial waste removal, redeveloping contaminated land, the remediation of public landscape areas, industrial and agricultural spaces.
For example, separating liquid from solid that's in the presence of oil and hazardous waste derived from drilling in the soil. In this situation an MB-S screening bucket was used to separate the materials and then reuse them again to produce new drilling mud.
In other situations, an MB-HDS unit was used to separate soil contaminated by hydrocarbons and facilitate its recovery, shred branches to maintain landscape areas, and to sift wet material and use it to reinforce riverbanks.
WITH MB, WASTE BECOMES NEW MATERIAL TO BE REUSED OR SOLD...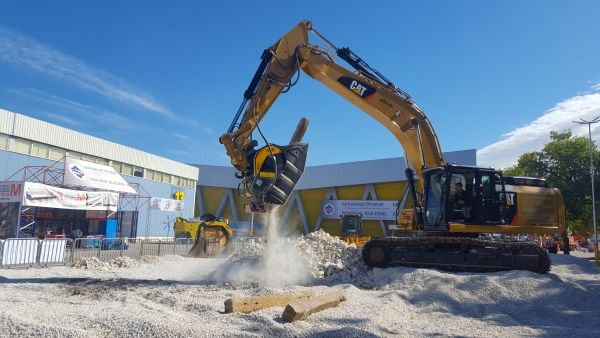 ✓ Maintenance work in agricultural areas, such as removing wine crops, while managing and disposing of reinforced concrete, concrete and steel poles.
Often times, these poles become a problem during the removal phase, when vineyards need to be replaced or relocated. In particular, old concrete poles are considered special waste and their disposal involves high costs. Using a traditional crusher – whether it's stationary and mobile – is impossible, considering the steel, as well as reinforcement in sleepers or light poles. The steel would damage the rubber conveyor belt of the crusher. Furthermore, inserting it in the crusher is complicated and would cause downtime and consequent increase in costs.
What's a solution to dispose poles in a sustainable, fast, and profitable way? MB Crusher's range of crusher buckets.
✓ Challenges when maintaining and cleaning beaches, both from plants from the sea and waste from tourists or carried by the currents.
An example? In Spain, an MB-S screening bucket was used to separate the sand from vegetation (logs, shrubs, bushes) and waste. The natural material was reused on site to redevelop parts of the beach, and the waste was taken to the landfill.
So, select, reuse, and recycle. All in favor of saving money and the environment.
WITH THE MB CRUSHER RAGE, MAINTAINING AND MANAGING LANDSCAPE AREAS INCREASE REVENUE AND REDUCE DOWNTIME. ALL TO BENEFIT THE ENVIRONMENT.

In all areas, landscape areas are becoming increasingly important, and in recent years, awareness regarding the presence of greenery is one of the elements that contributes to improving the quality of life has grown. Correctly managing and maintaining areas is as important as the machinery used by the companies in various challenges.
MB Crusher guarantees your satisfaction with the equipment as it allows you to work independently and offer new businesses opportunities.