The MB crusher bucket at work in South Africa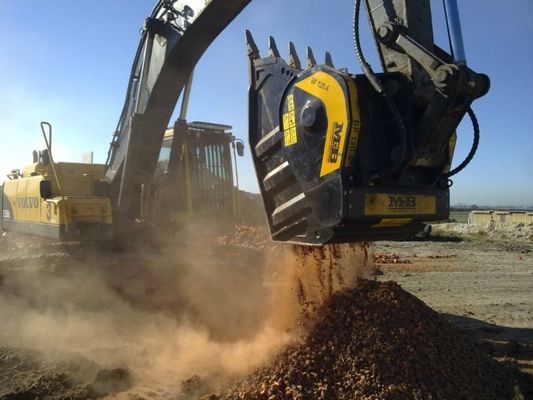 An interwiev with enterprise Scribante Construction Ltd.
1) Please tell us a little bit more about your company: What is your business activity?We are civil engineering contractors specializing in township infrastructure ,general earthworks, asphalt, concrete supply, mass earthworks, mobile crushing, fixed crushing and mining.
2) When did you buy our BF and which model? / On which excavator is it mounted?We bought the crusher bucket in August 2012 and it is mounted on a Volvo EC360 excavator.
3) Which kind of jobs do you do with the BF? How do you use it? Which material do you crush?How are using the crusher bucket to crush Calcrete material to manufacture a wearing course G5 for road construction. We found out about the crusher bucket through the internet.
4) What made you choose to buy our bucket crusher instead of a standard crusher? Decided to test your bucket and experience for ourselves.
5) Using the bucket crusher has undoubtedly opened you to new possibilities and given you many advantages. In what terms did you manage to save money and add value to your work with the BF?
We can save on our cost per ton to manufacture the wearing course. We work the bucket 9 hours per day for six days a week
6) What do you think about the maintenance and use of the bucket crusher?The bucket is easy to maintain and very accessible with all the removable plates.
7) What are the main characteristics that distinguish the bucket crusher from other more conventional crushing methods? Definitely makes the crushing cost per ton a lot more competitive.
Top
Contacts