MB Crusher is a leading attachment specialist that provides materials processing equipment to the recycling, demolition, construction, landscaping and waste management industries.
It produces a complete range of crushing and screening buckets, drum-cutters and grapples for all kind of excavators and loaders.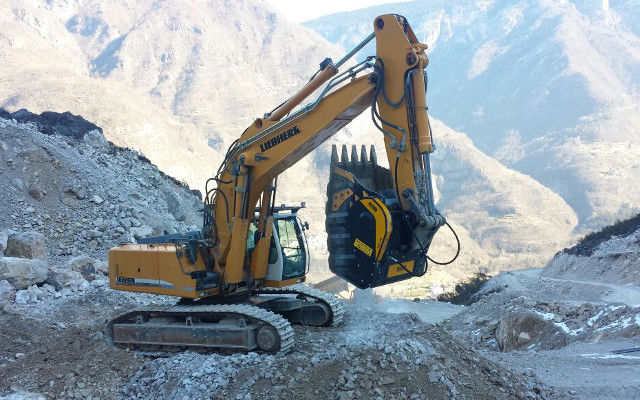 Products only just unveiled at Bauma 2016 will also be displayed for the first time in the Middle East, including MB's new hydraulic drum cutter, the MB-R800, as well as the MB-LS220 – the first screening bucket designed specifically for owners of 12t- to 35t-class loaders and backhoe loaders.
This new piece of equipment fills a gap in the market for the selection of waste material on sites where there wasn't a solution before.
Crushing in quarries around the world has also become a key aspect of mines operation, as the sharpest operators make the most of all the available material. Today, 'waste material' that was once simply piled up in the quarry is fast becoming a valuable resource.
However, the need remains to obtain the desired sizes in the shortest possible time to maximize profitability per cubic metre.
As quarries often cover tricky terrain, there is utility in having equipment able to reach areas previously only accessible to excavators.
MB Crusher has developed a range of bucket crushers and screeners designed specifically for mining sites: the BF135.8 crusher bucket suitable for 40t-class excavators; the BF150.10, built for excavators with an operating weight of more than 70t; and the MB-S23, a super-size screening bucket that already had considerable success in quarries around the world.
The MB-S23 is, in fact, the largest screening bucket in the world and provides unparalleled screening performance, with a load capacity of 4.3m3 and a 1.490mm-deep loading basket.
MB Crusher will be present at The Big5 located as stand OS260 in the outdoor area.
Top
Contacts