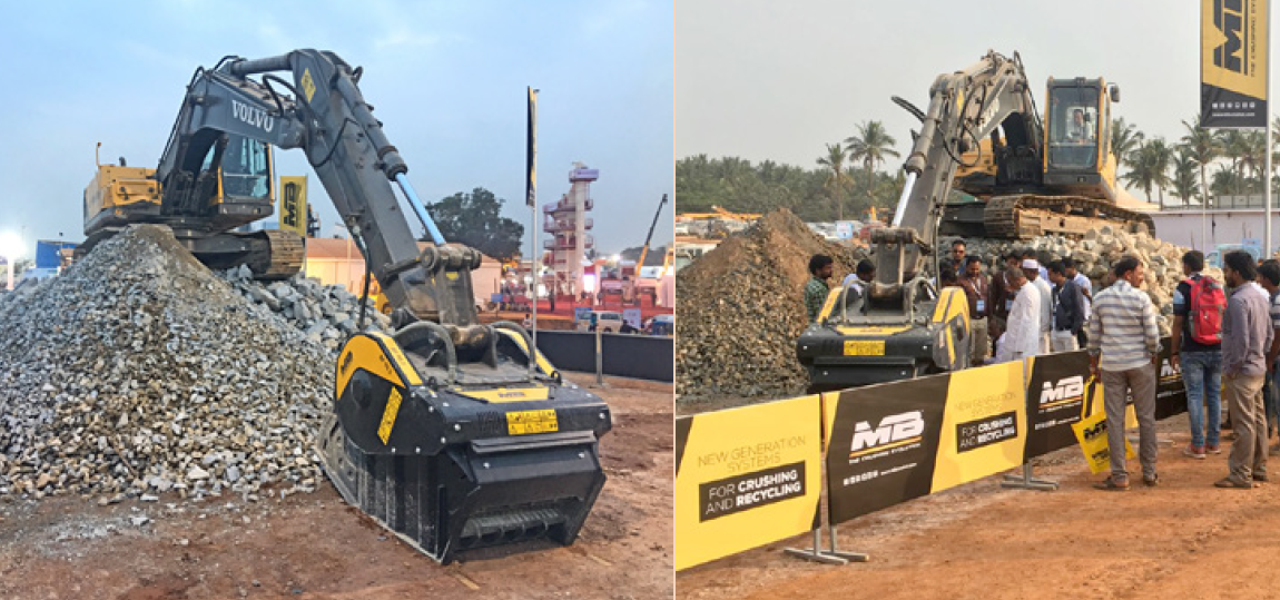 MB Crusher is ready to expand its product portfolio in India.
They have come from all over India. By the thousands. And they have witnessed a true emonstration of the MB Crusher screening and crusher buckets at work. Last December, MB India, the Indian branch of MB Crusher, took part in the ninth edition of the Excon tradeshow. Organised in Bengaluru, Excon is one of the most important events in the construction equipment operating machine, capable of simplifying the crushing, screening and moving of aggregates, allowing companies to significantly improve their profit making.
MB crusher and screening buckets are used in numerous different industries, particularly in road building, in quarries and mines, for excavations and demolitions in urban construction
There has also been a lot of interest in the screening buckets that, used with the same operating machine in the post-crushing phase, select processed materials in multiple forms to make them completely reusable. More specifically, many Indian contractors have shown great interest in the MB-S23, the largest screening bucket in the world, which is and technology industry: 925 exhibitors, covering a 250,000 sq m area. An important showcase for the fast-growing Indian market.
In the tradeshow, MB Crusher assembled a genuine construction site: The only demo area at the event, where a BF90.3 crusher bucket and a MB-S18 screening bucket worked all day long, very much impressing and astounding the visitors.
Improving profits
MB Crusher supplies a complete range of state-of-the-art machinery that can be applied to any sites, in recycling, for sewage systems and tunnels. MB has also presented Excon visitors with a complete preview of one of the latest additions to the range: The MB-R Drum Cutter, whose official launch is expected in early 2018.
Significant savings
MB can transform any operating machine into an actual crusher that can work with all aggregate or natural materials, directly on-site. With significant savings on transport, equipment and fuel, you will quickly
earn back your investment, increasing your profits forever. adapted for operating machines weighing 35 tonne and up, that will be used in road construction and quarry works in the northern regions.
"For us, the Indian market poses a unique and exciting experience," says Piero Guizzetti, CEO of MB India. "In the next 20 years, it will be one of the fastest growing markets. And we are proud to be here, now, presenting our products that are 100 per cent made in Italy."
Top
Contacts