IMPARTING VERSATILITY
15-08-2016
Use of job-centric attachments converts conventional construction equipment into multipurpose machines, making them more productive, thereby ensuring better utilisation and job site economy.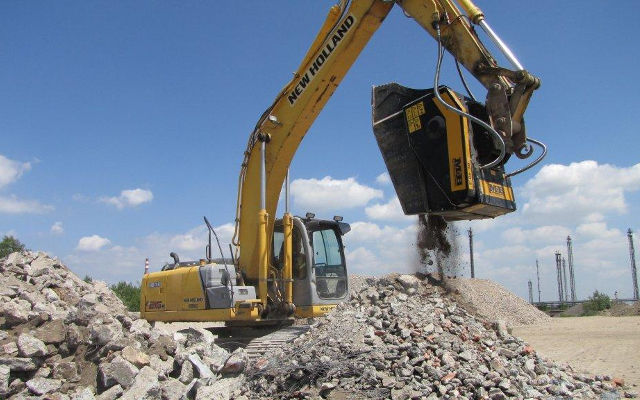 Attachments transform CE into formidable work tools
Not surprisingly, hydraulic excavators emerge as the most popular generic equipment, for using attachments to convert them into multipurpose tools.
All players in this space offer numerous options with variants, to match the machine specifications, thereby converting them into formidable work tools to meet the requirements of small and mega contractors alike.
Piero Guizzetti, CEO & Director, MB Crusher India Pvt Ltd, informs, "MB is an Italian multinational company into attachments for the construction and earthmoving industry. We have been present in India since 2012, when we incorporated a local subsidiary. Since then we have been growing, with our sales reaching the market via exclusive dealer relationships that we have across India. We have direct presence in almost all the states of India with excellent partnerships to assure a local presence from a sales and after-sales point of view.
By the end of 2016, we expect to cover the entire Indian market."
He adds, "One certainty is the versatility that our attachments can provide. Traditionally, you can see that excavators are compacting, picking up, loading and unloading materials. Now we are adding a very critical function which is usually the next step. In the demolition segment for example, a building or whatever structure you are looking to demolish is first broken down. Then you have to lower and put the materials into a static crusher and then reload and re-transport the material to the site where you want to use the crushed material. With our solution, within the same site where you are taking up the material, you are able to crush the material to the length and size of the requirement and you are able to use it on site. So in this particular instance, you have evident savings on time and transportation costs."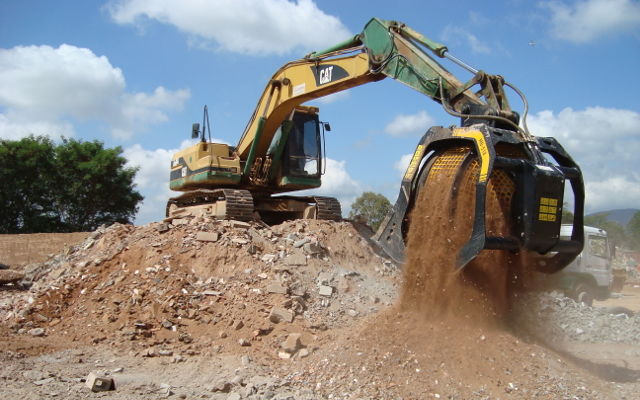 Purpose-built Attachments
Attachments are always developed with a specific purpose in mind by the innovators. By using a quick coupler fixed at the nose of the boom or front linkage of a machine and using its inbuilt hydraulic system for powering, many attachments can be mounted on the equipment. The output of the hydraulics in terms of pressure and flow rate can be suitably adjusted. Use of snap on- snap-off type pipe connections enables quick change from one attachment to the other.
Guizzetti explains, "Mainly, we have two product ranges — one is the crusher bucket which is for crushing and demolition of construction materials and another one is the screener bucket essentially for screening out material from a particular site. In mid-2015, we launched a product range of grapplers for picking up, moving and disbursing of construction materials. In the crusher buckets and screener market, we have used our world leadership to expand and penetrate the market. Our products can be termed as purpose-built attachments and we have a certain level of customisation."
Market Drivers
Accelerated infrastructure development projects in the country emerge as the primary drivers of the market for CE attachments. Since the construction landscape has become very competitive, contractors need to optimise costs and deliver speedier completion of work at hand.
Guizzetti says, "Education on today's market is a major factor for awareness about solutions. We are doing roadshows and a lot of presentations to show live examples in India about our equipment used in demolition and infrastructure projects, to provide awareness among the customers here in India."
Vision Ahead
The industry as a whole is bullish and expects the good times to continue. Most have ambitious plans to capitalise growth in the years to come. However, their approach is cautious and they are taking one positive step at a time.
Guizzetti is very positive. He says, "By 2018, we expect the market to take the next stage of growth, where it will shift from purely concept selling. We see the market still small, but growing by leaps and bounds. It is a very capable market, because India is a dynamic market that grows at high speed. So things will change rapidly, and of course, a lot of interesting things are happening in the downstream level, with the public sector investments, and the efforts the new government has put in. So probably with the larger policies and programmes being implemented by the government, there will be a lot of applications for our equipment." He adds, "With a lot of public sector investments, we can explore a lot of private sector investments (too), and overall infrastructure initiatives at the macro level. We are looking forward to consolidating our presence in India, and being a partner to India and its stakeholders' growth."
Top
Contacts