Crushing efficiency goals
28-11-2017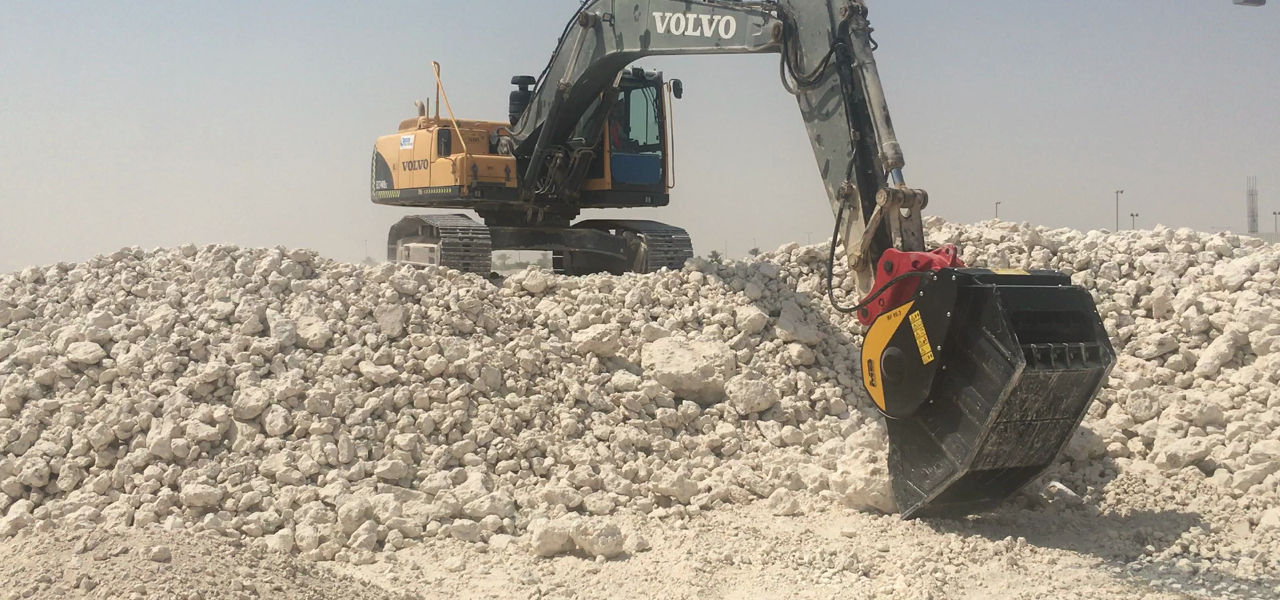 MB Crusher's BF90.3 crusher bucket is helping the construction of Oryx International School in Doha.
[Technical Review Middle East ]
The MB Crusher's BF90.3 crusher bucket has been working day and night in one of the Qatari capital's largest sites at Barwa City, crushing more than 60,000 cubic metres of limestone. This is the second stage of the construction of Oryx International School, an Orbital Education Group school (Britishstyle schools) for Qatar Airways (QA) employees' children.

MB crusher bucket – On-site work
The BF90.3 crusher bucket was purchased by Boom General Contractors, a large Lebanese construction company that is following the project. BF90.3 is working to recycle thousands of cubic metres of inert waste materials from the excavations for the foundations and the underground car park.
Mounted on a Volvo EC240B excavator, the BF90.3 crushes the material with different sizes. To change the resulting soil texture, thicknesses can be added into or removed from the MB crusher in just a few minutes. The crushed rock will be reused to fill on-site excavations and as subgrade for the roads within the school.

"We chose the MB crusher bucket because we can crush the material directly on site, without having to bring a large crushing station," points out Pier Matter, project manager at Boom General Contractors. "This saves us transport costs for other machinery, as the crusher bucket is carried together with the excavator. Once it is on site, it can be assembled very quickly, and we are ready to work in a few minutes.

It is also easy to use. From the excavator cab, the operator picks up the material with the crusher bucket and crushes it on the spot. "Time is a critical factor for us," continues Matter, "which means that having a machine like the MB crusher bucket on site is really helpful, also considering the amount of material we need to process. The crusher bucket does not need special maintenance in addition to basic maintenance. It also requires very low amounts of water, which makes it easy to work with the other
excavators we have on site."

...Find more in the article!
Top
Contacts