BF90.3: The bucket that revolutionised mobile crushing
18-12-2017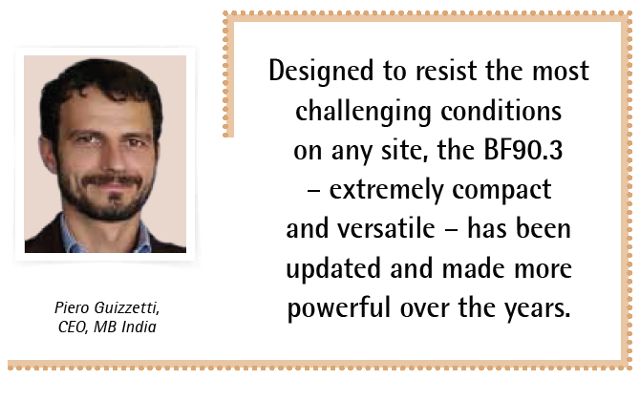 [B2B Purchase, December 2017]
Demo area: Yellow Lot OD135
Indoor booth: Hall 3, Booth 256 (Italian pavilion)
MB at EXCON 2017
MB has been a key player in the fields of crushing, demolition and recycling. At EXCON 2017, MB India will organise a real demonstration area with its machine working.
Visitors will have the opportunity to understand which kind of solutions MB Crusher attachments can bring to their respective construction sites. Visitors will also have the opportunity to see the company's recently launched S4 series for BF90.3 bucket crusher at work. "Our product is itself a breakthrough for the mobile crushing industry, going beyond traditional mobile crushing units with a much lower CAPEX while at the same time meeting the performance parameters of alternate solutions," says Piero Guizzetti, CEO, MB India. MB Crusher's presence has enabled it to establish and strengthen a relationship of trust with its customers. The company believes that participation at EXCON represents an important opportunity for visitors to become acquainted with high quality MB products.
Unique features of MB's BF90.3 bucket crusher
Produced and patented, the BF90.3 was the first crusher bucket in the world ever made, claims Guizzetti. He adds, "Designed to resist the most challenging conditions on any site, the BF90.3 – extremely compact and versatile – has
been updated and made more powerful over the years." [...]
Find more, downloading the article!
Top
Contacts