A one-machine crushing squad
28-04-2017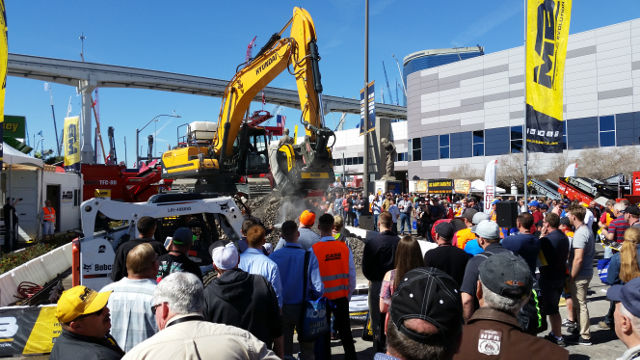 Italian mobile crusher maker MB Crusher, together with its branch office MB America, has been big this year at Conexpo, crushing and screening with an excavator and skid loader, turning each equipment into its own one-machine mobile plant. [...]
At its demo area in the Silver Lot, MB Crusher featured four machines crushing and screening concrete debris and granite rocks : the BF120.4 crusher attachment and the MB-S18 screening attachment on an excavator, and the MB-L140 crusher attachment and MB-LS140 screening attachment on a skid loader.
In addition to the live demonstrations, MB Crusher has its drum cutter and grapple models on static display.
MB's attachments use the hydraulic system on excavators, skid loaders and backhoes, and allow contractors the flexibility to work in tight areas, difficult access locations, steep slopes and urban areas. The company says contractors will be able to reuse materials immediately at the job-site and provide a greener option in recycling waste materials.
By reusing materials, contractors and businesses can save time and money by reducing waste and trucking costs.
Top
Contacts