Use MB CRUSHER as the primary crusher to reduce cost and increase profit.

Reliable. Robustly constructed. Easy to maintain. Easy & safe to operate. The solution for your needs.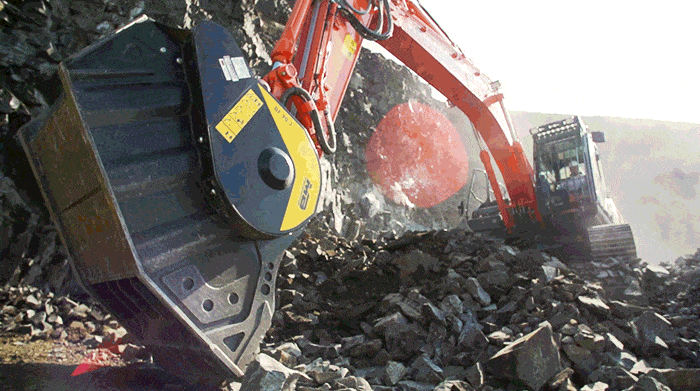 If you need to install a new crusher or replace a stationary plant choose the MB Crusher unit to have your cost-effective jaw crusher. Here are some of the advantages:
Production flexibility
In Latvia, our customer had a stockpile of granite in one of his quarries. He choose one of MB's mobile jaw crushers to reduce the granite while reducing the cost per ton. Using a BF90.3 with his Volvo EC300 DL​ gave them reduced rocks that are sold at a very competitive price, giving them profit from a pile of waste.
Why did they choose MB Crusher's self-contained plant?
Before purchasing the BF90.3 they had two choices to process the pile of granite, either take it to another quarry where they have a mobile crusher or bring the mobile crusher with special haulage to this quarry. Both case scenarios resulted to be expensive, therefore to avoid wasting money they kept accumulating.
I want to talk to one of your advisors.
Easy to operate and move
In Chile the customer mounted a BF120.4 on his Doosan 340 and began to move the jaw crusher to several points of the quarry without having to include any other machine or truck a very cost-effective operation.
Why did they choose MB's jaw crusher?
To be able to operate anywhere in the quarry without having to worry to insert too much machinery into the operational fleet. Streamlining the process with an MB attachment saved them a lot of money and also made the job easier
I want to simplify my operations.
Fast and effective
In Perù selling chalk for this quarry meant being able to provide a variety of output sizes so they added an MB Crusher BF90.3 to their Caterpillar 325 and incremented the commercial demand for their products.
Why did they choose an MB Crusher mobile jaw crusher?
Because the output can be changed directly at the extraction side without the need to take the unit to a workshop.
I wish to speak to someone local.
Information request
Fields marked with ( * ) are mandatory .