MB CRUSHER @ Scotplant 2020
Attachments that generate revenue, 18 models on show @Scotplant 2020 the 25th and 26th of September.
Units are suitable for any application and applicable to any brand of heavy equipment including midi excavators, loaders and skids. At the show will be available all 5 lines:
jaw crusher bucket
screening bucket
the drum cutter
the grapple
shafts screeners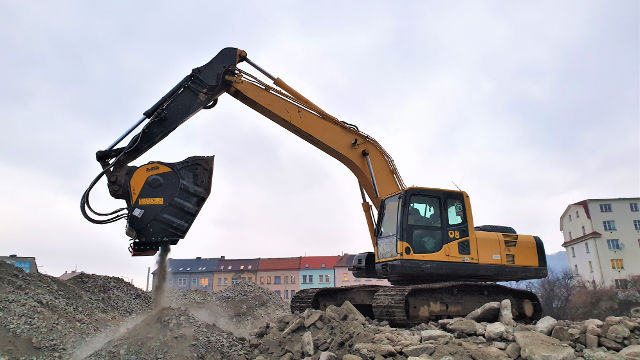 Would you like to know how to make your construction site more sustainable?
By using MB's units you can avoid off-site processing, come to the stand nr. 7 Avenue S. to find out
how much time can be saved by processing material on the spot

how much money can be saved by avoiding landfill and transportation costs

how much revenue can be made by selling the extra product made and avoiding procurement costs
At the Royal Highland Center in Edinburgh, MB Crusher will showcase its attachments and the consultants will be available to prove how immediate reuse of the material is a key necessity for the environment but also a huge financial benefit for a company. The right tool makes the job easy.
Do you need to separate all the different type of material that a demolition produce?

With the MB Crusher's shaft screener the job can be done easily and quickly.
Just by simply changing the shafts at the site, a single unit can perform with a vast range of materials: wet soil, clay, asphalt, drywall, foliage are just some.
Do you need to reduce in size debris?
With an MB's Crusher bucket you can reduce material without having to move it to a specialized centre.
By simply regulating the output to the desired one, waste can be turned into profit. This line can also work with reinforced concrete, separating the concrete from the re-bar and thanks to the iron separator installed on the bucket the iron portion can be recycled, and the aggregate produced.

Do you need to relocate materials oddly shaped in total security and with noise control?
MB Crusher's rotating grabs can be upgraded by 5 different accessories to provide a flawless, efficient and versatile job.
Come to see the grapple working at the stand nr. 7 Avenue S to see its full potential and agility.
Get in touch today to get your free entry link and book your appointment with an MB Consultant and begin:
saving money
enhance your fleet
process and reclaim debris on-site