"We were very impressed and could see the advantages of using buckets over the bigger machines"
Interview - R. Exall & Sons, UK - OUR BUCKETS BF 60.1 AND MB-S14 AT WORK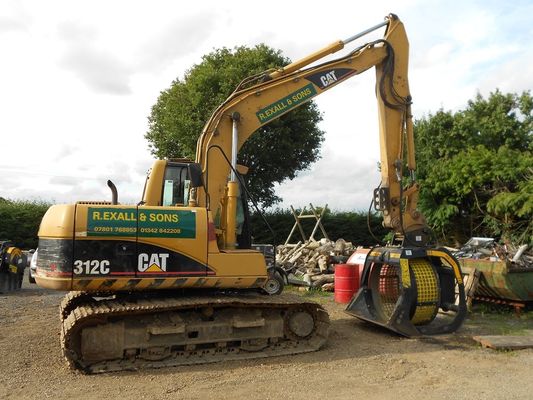 Please tell us a little bit more about your company: What is your business activity? What is your position in the company...?
R. Exall & Sons has been established since 1951 as a family run company, providing all types of hard landscaping and groundwork from design to build. They take on large and small projects both residential and commercial within the Surrey, Sussex and Kent areas. They provide a wide range of landscaping and groundwork aspects, creating anything from gardens, driveways, walls, ponds/lakes, roads, pavements compounds from concrete or tarmac to the clients requirements.
R. Exall & Sons have been involved in some very large projects which include 5000 sq metre compound in concrete, tarmac roads around an industrial estate, the design and build of a water feature at the National History Museum and building a stroke therapy garden at Mayday Hospital.
When did you buy our buckets and which models? / On which excavator is it mounted?
We recently bought a Dig a Crusher MB BF60.1 crushing bucket and a Dig a Screener MB S14 screening bucket. We use them on a Cat 312C excavator.
Which kind of jobs do you do with the our buckets ? How do you use them? Which kind of material do you work with?
Landscaping and groundwork projects often involve taking up existing materials, for example, patios, old concrete compounds, drives, footpaths and excavations of soil, to later be replaced with new materials. We wanted to recycle these materials rather than buying in new each time. We had started to bring any waste materials back to our yard and were hiring in large screeners or crushers once we had collected enough materials to recycle. These we would then reuse on future projects rather than buying in crushed concrete or top soil each time.
How did you hear about these buckets and our company?
Joe Burke, Area Sales Manager for Worsley Plant contacted the company and arranged a demonstration of some of their range of screening and crushing buckets from MB.
What made you choose to buy our buckets instead of bigger processing plants?
We were very impressed and could see the advantages of using buckets over the bigger machines. These are much more efficient and cost effective for their needs. They are easier to use and more versatile fitting easily on the existing excavators.
Using our buckets has undoubtedly opened you to new possibilities and given you many advantages. In what terms did you manage to save money and add value to your work with them? How much time and resources can you save using them? How many hours a day do you use them for? How many days a week?
They have allowed us to recycle all materials bought back to our recycling site, saving money in the long run. We can easily take excavators and attachments out to bigger contracts to recycle and reuse materials directly on site. We can screen and crush down waste from driveways, hard standings, garages etc., to reuse as crushed aggregates and screen excavated soils for the reuse on flower beds, turfing and seeding.
What do you think about the maintenance and use of both crusher bucket and screening bucket?
Worsley Plant provide unrivalled sales, expertise and aftercare. The buckets are backed up with a comprehensive parts stock ready for next-day delivery and can either be repaired onsite or taken away if necessary. They are very reliable and much more cost effective than traditional crushers.
Do you think our buckets offer you new opportunities to be more competitive in the market? What are the main characteristics that distinguish these buckets from other more conventional crushing and screening methods?
We bought the Screening and Crushing Buckets as we are extremely impressed at their versatility and they are ideal for a wide range of our projects, helping us to save money, recycle materials and be more flexible.