WE HAVE EXPANDED THE WORKING PERIOD TO THE RAINY DAYS. ''What a glorious feeling''
Rain and bad weather in general, have a strong impact on outdoor sites.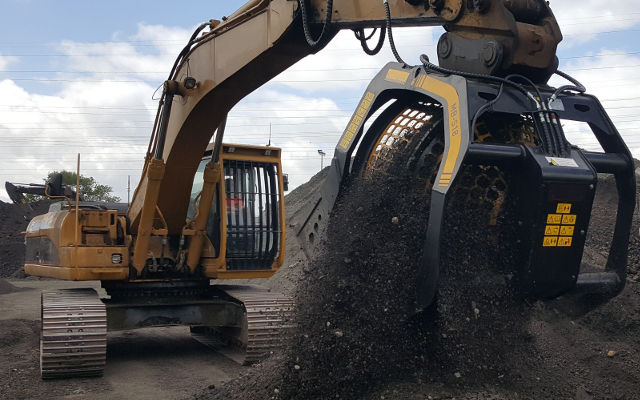 When it rains the work site has to stop, causing delays, generating discomfort as well as safety issues. Resuming work is also a problem, especially because materials are moist and difficult to treat. Companies need to be prepared to take on challenges that comes along with hostile weather, often resulting in lost revenue and increased expenditures.
Timberline Tree Service Inc. is a Californian landscaping company that deals with a full tree care services in residential areas. They had two problems to solve:
The first was to be able to easily and quickly separate the soil from the bark of the fallen or pruned trees.
The second was to work with pieces of wet clay practically impossible, to break down.
Two issues to be solved that found their solution in a single piece of equipment: a MB Crusher MB-S18 bucket from MB Crusher.

How? A 2-inch grip panel have been used to separate the soil from the bark. The screener could thus sift the material and divide it as needed. The same MB-S18 screening bucket managed to break the moist clay, simply by inserting rocks inside the basket. The presence of rocks in fact allows to break up the damp clay, so that it can then easily pass through the panels of the rotating screening machine.

With just one equipment and a single excavator, Timberline Tree Service Inc. has found what they were looking for. A practical solution that had them so impressed that after a year another MB screener has been added to their fleet, to be even more productive.

"Being able to give our customers what they need is our mission - underlines Miriano" Max "Ravazzolo, CEO of the American branch of MB Crusher - Timberline Tree Service Inc. had a problem and found an easy solution with our equipment ".