The grape harvest is not over yet … take advantage of the posts as well!
09-08-2017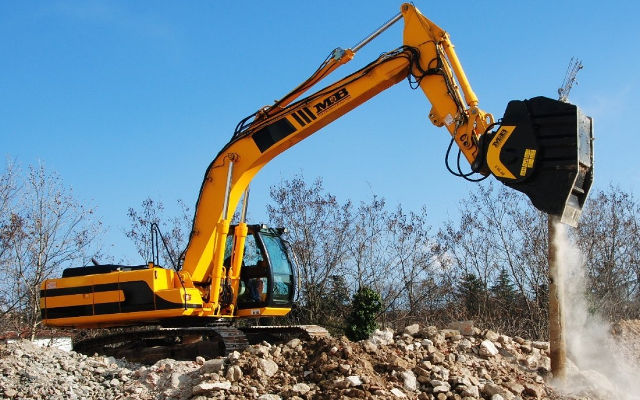 [Lectura Press, August 2017]

''Used to support new plants in the cultivation of fruit, and in vineyards, reinforced concrete posts are a useful and practical instrument for farms.
However, they become a problem during harvesting, when the plantations have to be substituted or moved to a different area of land.
The removal of crops is a complex operation, which often becomes expensive for farms as it produces a large quantity of refuse, both organic as well as that deriving from the cement posts.
In particular, old cement posts are considered as special refuse and their disposal is subject to elevated costs and complex bureaucracy, as it needs to be carried out in a manner which is environmentally sustainable and compatible with local regulations.
So how can they be disposed of in a sustainable and profitable manner?
With the aim of testing their range of machinery in various areas of application, MB Crusher had its crusher buckets tested by a number of farmers from the Veneto region during this delicate phase of special maintenance carried out on the vineyards.

The MB Crusher buckets, thanks to the particular structure of the crusher mouth, had already been successfully used for the crushing and disposal of railway sleepers and the reduction in volume of lamp posts, very resistant, bulky and voluminous waste material.

All it took was a few minutes of work to understand that the recycling of posts could be sustainable and profitable, as well as in line with regulations which govern the sector. The use of a traditional crusher - either fixed or mobile - would have been impossible, considering that the prestressed steel - just as with the sleepers or the lamp posts - would have definitely damaged the rubber conveyor belt on the crusher, causing probable breakdowns and an increase in costs.

Why not test them on reinforced cement posts from vineyards and orchards?''

Find more in the article!