FIT AND ENLISTED
01-12-2008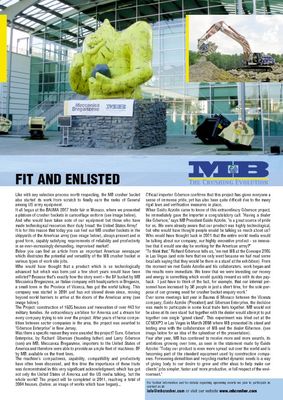 Magazine: EUROXTRADE
".. Like with any selection process worth respecting, the MB crusher bucket also started its work from scratch to finally earn the ranks of General among US army equipment.
It all began at the BAUMA 2007 trade fair in Monaco, where we presented a platoon of crusher buckets in camouflage uniform (see image below). And who would have taken note of our equipment but those who have made technological resources their daily bread: the United States Army! It is for this reason that today you can find our MB crusher buckets in the shipyards of the American army (see image below), always present and in good form, capably satisfying requirements of reliability and productivity in an ever-increasingly demanding, improvised market!
Below you can find an article from an important American newspaper which illustrates the potential and versatility of the MB crusher bucket in various types of work site jobs.."