This is an… original construction site!
22-06-2020
Job sites come with their unique challenges, some of which seem impossible to overcome. Sometimes you have to work hard to find the most suitable and least expensive solution.
How to use crusher buckets, screeners, grapples, and drum cutters in a… creative way!
MB Crusher has a solution for every type of construction site, even the most "unusual" ones.
Do you have to sieve or clean rocks to decorate a flower bed? Use the MB screening bucket.
Do you have to move wood, boulders, or beams with agility? Use the MB grapple.
Do you need to clean and separate a weed infested plant bed? Use the MB shafts screener.
Do you need a machine to grind rock walls and open a tunnel? Use the MB drum cutter.
Do you have to reduce the resulting material into different granulometries and reuse it on site? Use the MB crusher bucket.
Here's how the most creative companies have used MB Crusher attachments to simplify their work process and grow their business.
FRANCE. HOW TO GET RID OF WEEDS WITH YOUR EXCAVATOR
In France, a valley's biodiversity was at risk of a Japanese knotweed invasion.
How were they going to eliminate it, without using trucks to transport tons of soil?
The original idea was to install the MB-HDS320 shafts screener on an excavator to process the rootstalks and mulch it. This deemed the rootstak unfit for regeneration and it was no longer able to infest the land.
DIY landscaping at no additional cost!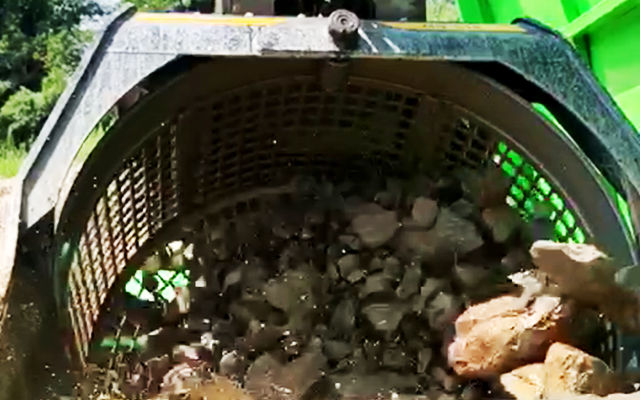 ITALY, HOW TO CLEAN STONES FOR DECORATIVE PURPOSES WITH A MINIMUM INVESTMENT
In Trentino Alto Adige, in northern Italy, a company had to clean dirt off of natural stones, to create flower beds, fencing and ornamental retaining walls. How did they do it while expending the least amount of energy and resources? The solution was to install the MB-S18 screening bucket with 80 mm panels to an excavator to wash the stones in a water-filled container.
Practical: just install the bucket on an excavator already on site.
Fast: operations are done directly from the excavator cabin.
Economical: everything is done on site without having to resort to third parties.
JAPAN. DEMOLISHING WITHOUT DESTROYING: THE GRAPPLE WITH A "GENTLE" TOUCH.
On a construction site in Japan, the problem was demolishing a house without destroying the material, so they could recycle it. This is why the company used an MB-G900 grapple, which took the wooden panels and moved them with extreme precision. The house was practically pulled apart piece by piece and the material was completely reclaimed.
The advantages?
The job was completed in a short time.
The material was handled with precision and ready for reuse
Expenses reduced.
GUINEA. RENOVATING A ROAD WITHOUT STOPPING VEHICLE CIRCULATION
Stopping port activities is unthinkable. However it is necessary to tear out and replace part of a drivveway in the container handling area, which is currently compose of self-locking concrete blocks. After removing and stock piling them in a designated area, the BF80.3 crusher bucket was used to crush the blocks down to 0-3cm. The product was then mixed with the existing substrate, thus creating a quality mix capable of withstanding container loads.
What were the advantages of using a BF80.3?
Being able to work in a tight space.
No need for additional heavy machinery.
Reuse of the inert material without having to purchase more.
OPENING AN UNDERGROUND TUNNEL
Precision and great handling were required to open a tunnel in a mine in Sinaloa, Mexico. The managers decided to install an MB-R900 drum cutter on their excavator. They completed the job in a short amount of time and with enormous savings.


Do you have an IMPOSSIBLE problem to solve?
Do you also have an interesting solution to share?