MISSION IMPOSSIBLE?
30-10-2020
If you believe that only Tom Cruise faced an Impossible Mission you are wrong.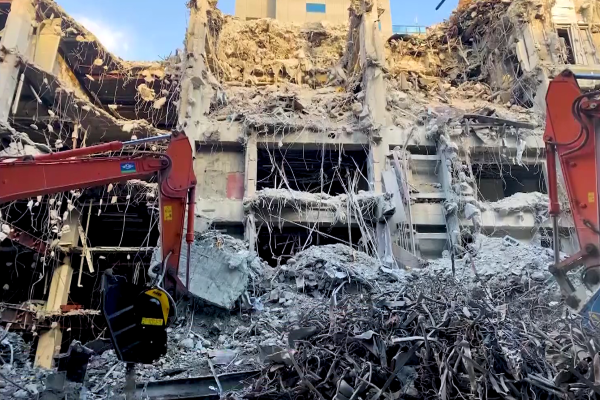 Contractors around the world used helicopters and cranes to move equipment, they worked in long and narrow tunnels, they handled hazardous material and saved thousands of dollars.
We are talking about incredible jobs, that our customers accomplished with innovative thinking, while remaining within budget.
The leading role in these missions were assigned to the MB Crusher attachments, thanks to:
their versatility, they can be used for multiple applications.
their compact size and practicality, that allows for easy handling of the equipment.
their quick ROI
the fact they allow companies to work in safety, without difficulty.
Let's look a little closer in to how our clients handled these
EXTREME job sites
:
MISSION IMPOSSIBLE 1: A demo job on the 16th floor
Where and how: in the center of a large city in Japan, with a BF70.2 crusher bucket, a Hitachi excavator and a crane.
Mission: bringing the crusher bucket to the 16th floor using a crane to recycle reinforced concrete, without creating additional problems. They used a MB Crusher unit on the roof of the building to demolish it one floor at a time.
The demolition waste was then tossed down a hole that was opened in the center of the building, to protect the surrounding area.
Results: material hauling time saved, and significant reduction of dust and sound emissions.
MISSION IMPOSSIBLE 2: Flying a Crusher on a helicopter
Where and how: in a lodge in the Bavarian Alps at 2,000 meters above sea level by using a BF60.1 jaw crusher, an excavator, and a helicopter.
Mission: to bring the crusher to process the demolition material directly on site. To avoid hauling the waste material downhill with a helicopter, they used a BF60.1 MB mobile crusher to process the material and use it as road base for the surrounding forest paths.
How did they bring it to the lodge when a helicopter can only carry a max of 1200 kg. A few of the crusher bucket's heavier components were removed and then reassembled quickly on site.
Results: significant savings on both waste disposal and hauling fees, reuse of the resulting material directly on site.
MISSION IMPOSSIBLE 3:
to work on more then 9.000 km of land in the middle of nowhere
Where and how: In Montana, USA, with a crusher bucket and an excavator
Mission: to prepare a development of a large portion of land for a new residential area. They used a BF120.4 unit to crush river rock for immediate reuse.
Results: tens of thousands of dollars saved, between hauling and material handling expenses, and buyback material to use as fill.
MISSION IMPOSSIBLE 4:
To build an underground drainage canal
Where and how: Southern California, Mexico, with a MB-R500 drum cutter and mini excavator
Mission: to avoid flooding a high traffic road, they used a MB-R500 drum cutter to dig a tight and long tunnel. The significant vibration that occurs with the use of a hammer could have led to the collapse of the tunnel.
Results: no vibrations or cracked walls, and a precise removal of only the required material.
MISSION IMPOSSIBLE 5:
To manage hazardous and pollutant material
Where and how: in Latvia, with a MB-G900 grapple and an excavator
Mission: to easily grab hold of large drums containing diesel fuel and paint.
Results: savings on both time and trucking, more work in safety and with a higher profit.
Do you also have a Mission impossible job site to share?