MB CRUSHER AT INTERMAT LAUCHED THE NEW MB-LS140, A SCREENING BUCKET FOR LOADERS, SKID STEERS AND BACKHOE
26-05-2015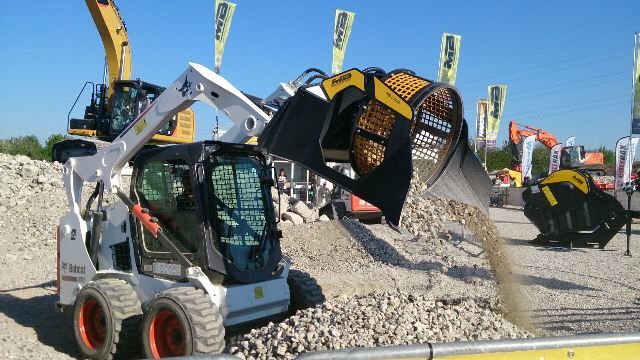 It is innovative, versatile and reliable. And it is brand-new. It is the screening bucket MB-LS140, applicable to skid steer loaders, backhoe loaders, it made its world premiere appearance at Intermat 2015 in Paris.
Ideal for natural material selection, pre and post crushing, the new screening bucket MB-LS140 consent to reduce up to 60% crushing time, thus allowing to recover the material suitable for the type of desired process and handle it in the best way.
Numerous its application areas , from the primary selection of waste material, demolition, excavations filling and the reclaiming of rocky ground, moving on to pebble selection, beach cleaning and all other instances where thinner pieces are needed.
MB-LS140 was conceived in MB's R&D department, who daily listen to customer suggestions and design equipment that meet the needs of each individual site.
Entirely designed in Italy in the MB factory in Fara vicentino (Vicenza), the new MB-LS 140 is suitable for skid steer from 2.6 tons. A real jewel of mechanics, lightweight (around 0.45 tons), compact (dimensions 1420 x 1380 mm x H=875) with a loading capacity of 0.50 m3.
Once again, MB has confirmed its successes and continues to invest in research and development, focusing on the specialization of unique, high quality products offering superior performance. Competitive products that add value to the construction site, resulting in reduced operating costs and real savings, in terms of time and efficiency.
MB stands for revolution: in the past 10 years MB has dramatically changed the methods of crushing used in all types of construction, enabling new opportunities and providing solutions to all types of technical requirements and environmental regulations.
In 2001, MB became the first company to conceive the jaw crusher bucket, for which it received international patents. Since the beginning the bucket crusher has offered revolutionary characteristics with fabrication at the highest standards in the market, for instance with the extensive use of Hardox for the wear parts.
Designed and manufactured in Italy, only the best materials are used to obtain the highest quality. Solid, durable and characterized by the now recognizable clean lines designed to resist wear and high stresses in the toughest working conditions.