MB's jaw crusher is a primary crusher
17-01-2023
MB's jaw crusher is a cost-effective primary crusher.
MB Crusher attachments work using the hydraulics of the heavy equipment where they are mounted, and they move around attached to the carrier.

Let's evaluate some factors:
Installation is simple and requires less than an hour
Desired output can be adjusted by the operator in a few quick moves
Maintenance is inexpensive and rapid
The units are easy to operate and safe
So in case, you need to install a new crusher or replace a stationary plant you can turn to the MB Crusher unit to have your cost-effective jaw crusher.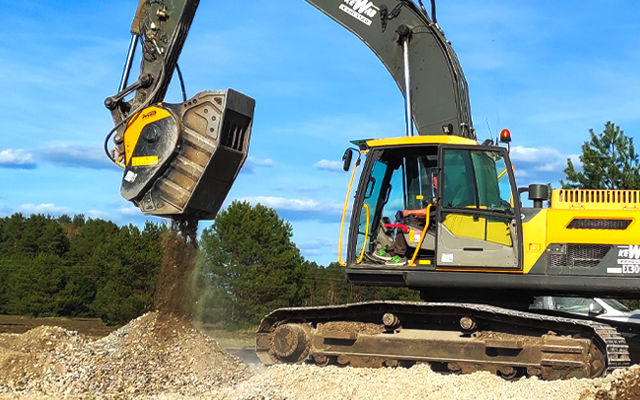 Production flexibility
Latvia: the customer had a stockpile of granite in one of his quarries
Combo: BF90.3 on a Volvo EC220
Outcome: Using the MB's attachment permitted them to reduce the granite, reduce the cost per ton of the product obtained and sell the reduced rocks at a competitive price while still making a good profit.
Why did they choose MB Crusher's self-contained plant?
Before purchasing the BF90.3 they had two choices to process the pile of granite, either take it to another quarry where they have a mobile crusher or bring the mobile crusher with special haulage to this quarry. Both case scenarios resulted to be expensive, therefore to avoid wasting money they kept accumulating.
Such a compact attachment made a big difference in the company revenue, how will it benefit your operations?
Easy to operate and move
Chile: the customer needed to reduce the limestone in its quarry
Combo: BF120.4 on a Doosan 340
Outcome: they move the jaw crusher with the excavator to several points of the quarry and reduce the material down without having to include any other machine or truck a very cost-effective operation
Why did they choose MB's jaw crusher?
To be able to operate anywhere in the quarry without having to worry to insert too much machinery into the operational fleet. Streamlining the process with an MB attachment saved them a lot of money and also made the job easier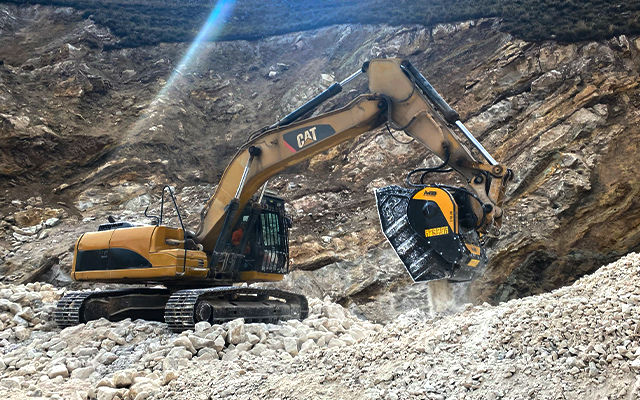 Fast and effective
Peru: the client needed a variety of output sizes for their chalk
Combo: BF90.3 on a Volvo EC300DL
Outcome: easily they could adjust the output to the size required by its clients, incrementing the commercial demand for its products.
Why did they choose a mobile jaw crusher?
Because the output can be changed directly at the extraction side without the need to take the unit to a workshop.