MB'S CALENDAR: APPOINTMENT AT THE QUARRY NZ ANNUAL CONFERENCE
27-05-2011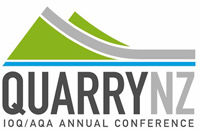 6-8 July 2011
With each passing year, MB becomes more and more prestigious on the Oceanic market and especially in New Zealand, where the merits of the crusher buckets and the technology of the Italian company are well known.
In fact, MB will also be at the Quarry NZ Annual Conference held at the Energy Events Centre in Rotorua (New Zealand), one of the country's most important conference centres.
During the first "running-in" years, when MB's crusher buckets travelled through the country, demo after demo, MB made it possible for people to experience first-hand the strength of its revolutionary products, thanks to which all kinds of materials can be crushed on site, to be then collected, separated from iron materials and made available for other uses, thus cutting down on material transportation costs.
The quality and technology of MB's products, the company's focus on its customers and the positive spirit with which MB has invested in terms of personnel and resources have conquered not only New Zealand but also the entire Oceanic area.
The Vicenza-based company has always believed that this market could significantly contribute to its growth, strengthening its commercial identity and policy, and that is exactly what has happened and continues to happen to this day.