MB invites you to MB Demo Days, 17th - 19th May 2016, Perth - Australia!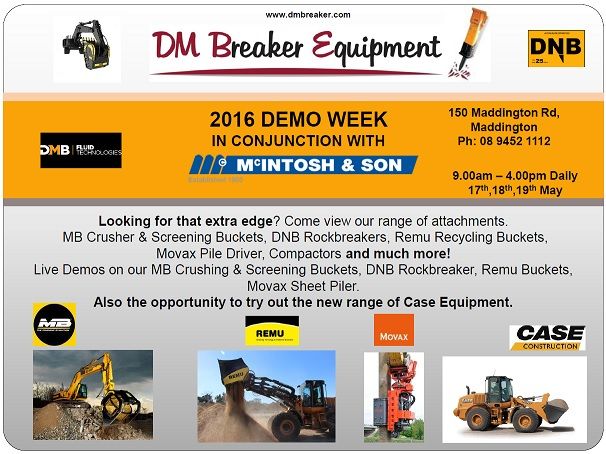 DM Breaker Equipment are holding demonstrations on 17-19 May 2016 of various MB Crushing and Screening attachment products for Excavators, Wheeled Loaders and Skid Steer Loaders to demonstrate the valuable offering of MB products for owners and operators of mining, construction and demolition machinery.

Sales and trials of MB crushing and screening attachments to construction companies, such as MMM (WA), have resulted in reduced tipping and cartage fees due to being able to recycle site material back into the job and therefore achieving reduced impact to the environment via reduced fuel usage and reduced waste management processes. MMM (WA) recently received an industry environmental award for a construction project where they utilized their MB Crusher bucket to recycle concrete structures removed from the worksite which they then placed back into the job as aggregate and clean fill, so these MB crushing and screening attachments are definitely worth looking at in action.

Please join us at our demonstration days for this unique opportunity to see these various MB attachments in action in the one location and where our friendly staff from DM Breaker Equipment can help you achieve improved materials and waste management solutions and opportunities for you and your clients.
Top
Contacts