MB Crusher to slash cost of waste disposal
10-08-2017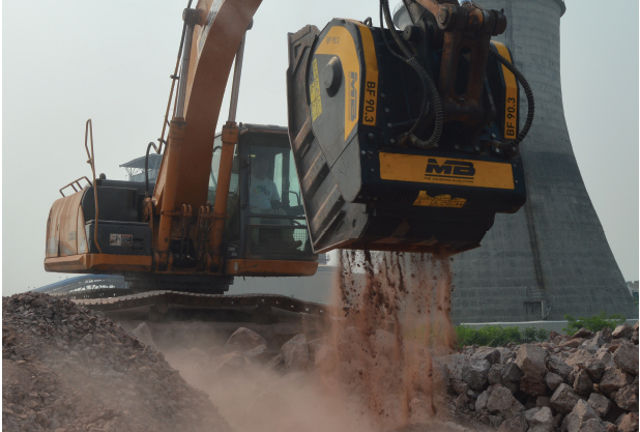 [Australian Earthmovers, August 2017]

Disposal of demolition or construction waste is a common cost element facing many contractors, particularly in our major cities where significant landfill charges are applicable.

When truck fuel, road tolls, operator time and project downtime are considered, the costs really add up. The use of crushing attachments is providing answers to companies such as the Anric Group which operates across civil construction and engineering, rail maintenance, demolition and plant hire companies, providing services to key industries within the Australian market.

"While it's normal practice for us to use contract crushing where large volumes of rock, concrete or masonry waste is involved, it is often the smaller waste stockpiles or inaccessible waste material that causes handling problems.''
Until now, our equipment fleet has not included crushing equipment [...] After investigating the options, we decided on a model BF90.3 MB crusher bucket.''

"The MB bucket is being used as an attachment on our Hitachi 20 tonne excavator. Even in the short time we have had the crusher bucket, the benefit has become obvious.
It will enable us to tidy up sites, while also providing the opportunity to reuse residual material, much of would have previously ended up in landfill.''

Having this equipment in our fleet also gives us the opportunity to crush stockpiles between projects whenever spare operators are available", Anthony added.

MB Crushers has developed site and task-specific bucket configurations designed to tackle common scenarios such as the separation of non-crushable steel reinforcement or structural materials, dust suppression, noise reduction and maintenance minimisation in this aggressive mechanical environment.

Read more in the article...