BE MORE COMPETITIVE WITH MB!
04-05-2015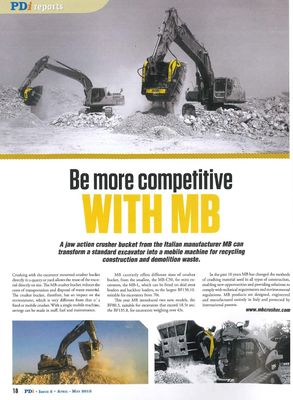 PDI Magazine
A jaw action crusher bucket from the Italian manufacturer MB can transform a standard excavator into a mobile machine for recycling construction and demolition waste.
Crushing with the excavator mounted crusherbucket directly in a quarry or yard allows the reuse of the material directly on site.
The MB crusher nucket reduces the cost of transportation and disposal of waste material.
MB currently offers different sizes of crusher bucket, from the smallest, the MB-C50, for mini excavators, the MB-L, which can be fitted on skid steer loaders and backhoe loaders, to the largest BF150.10, suitable for excacator from 70 Ton.
(......)