THE MB FAMILY EXPANDS IN 2015, WITH THE ADDITION OF TWO NEW BUCKET CRUSHERS
22-01-2015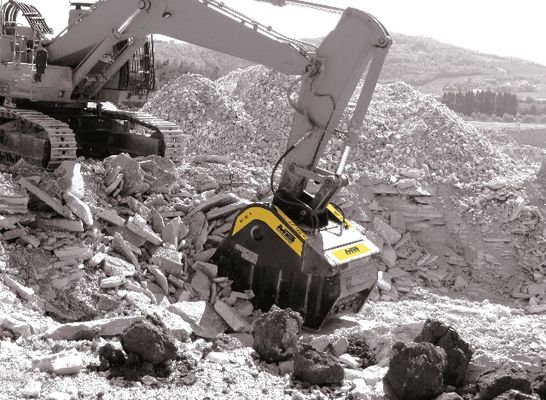 The year 2015 if off to a roaring start for MB S.p.A.. This undisputed global leader in the production and sale of earth movement and demolition equipment is introducing two brand new models of bucket crushers, two gems that complete the range of MB products, the largest in the world.
Suitable for excavators that exceed 18.5 tons of weight, the bucket crusher BF 80.3 is compact, versatile and suitable for the operations of crushing and recycling of inert material or resulting from demolition (road works - excavations - pipes - pipelines). In spite of its size and lower weight compared to larger models, it reaches productivity of 34 m3 per hour.
Suitable for excavators weighing over 43 tons, the bucket crusher BF 135.8 was created to meet the specific needs of crushing in quarries, for aggregates recycling operations in landfills, for volume reduction of materials resulting from demolition in large yards, or excavation, sewage systems and preparation of aggregates. With a productivity of 75 m3 / h, a capacity of about 1.60 m3 and a total weight of 7.50 tons the crusher bucket BF 135.8 is versatile and handy.
These two new products are another example of MB's ongoing commitment to renewing its products and its brand, creating work tools that are increasingly more advanced, flexible and simple to use, applicable to any machine, for crushing and screening materials that can be reused directly on site or for other purposes.
Like the brand's other bucket crushers, these latest additions also hold the exclusive bucket crusher patent for multiple jaw movements. Furthermore, each individual part of the bucket is designed to facilitate any intervention performed directly at the job site to minimize operations as much as possible.
Once again, MB has confirmed its successes and continues to invest in research and development, focusing on the specialization of unique, high quality products offering superior performance. Competitive products that add value to the construction site, resulting in reduced operating costs and real savings, in terms of time and efficiency.
MB stands for revolution: in the past 10 years MB has dramatically changed the methods of crushing used in all types of construction, enabling new opportunities and providing solutions to all types of technical requirements and environmental regulations.
In 2001, MB became the first company to conceive the jaw crusher bucket, for which it received international patents. Since the beginning the bucket crusher has offered revolutionary characteristics with fabrication at the highest standards in the market, for instance with the extensive use of Hardox for the wear parts.
Designed and manufactured in Italy, only the best materials are used to obtain the highest quality. Solid, durable and characterized by the now recognizable clean lines designed to resist wear and high stresses in the toughest working conditions.