Sharply on site, despite the years
15-01-2019
MB Crusher units persevere, unbeatable. Do not retire and collaborate with newer models.
Here some testimonials from The Old Continent.
In a world oriented to the development of new models - that make the existing model obsolete -, there is an exception that brings together reliability, innovation and cost.
"When our Sales Reps tell me about our machines in action for the last decade and still working – describe Diego Azzolin, MB Crusher Production Director – l consider it as one of the best compliments, as it is proof that our goal has been achieved and, above all, that the investment made in our products continues to be profitable".
This is confirmed by operational sites:
let's yield the floor to three professionals that multiplied their yard profitability with MB Crusher machines.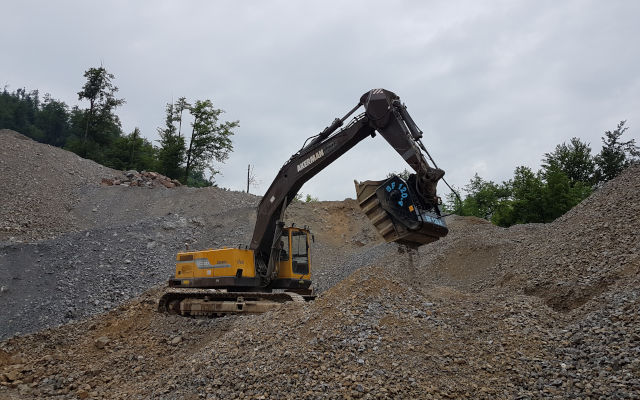 To break dolomitic rocks is a trivial matter, above all when using a single MB crusher bucket for every project of a whole valley. It happened in Polhov Gradec, Slovenia.
The first evidence is from a quarry 30 kilometres from Ljubljana, where the Crusher Bucket BF120.4 has been tirelessly working for more than 10 years: the Slovenian company says with satisfaction that the only substantial maintenance intervention was the replacement of the belts. An operation easily is done by the operator at the site, without having to contact any specialized technician or workshops.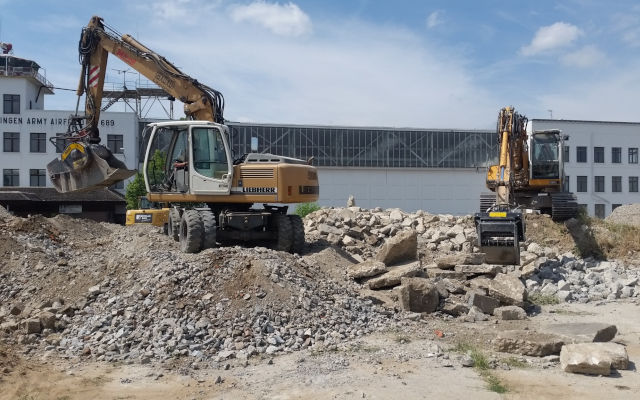 Whilst in Germany, a successful Bavarian earthmoving and demolition company bought a BF70.2 in 2011.
Satisfied with the purchase, in 2012 they expanded their field of activities and acquired a screening bucket MB-S14 with two mesh sizes: one for soil processing and one for rubble pre-selection.
Given the outstanding results, in 2017 the company expanded even further the fleet, with a new generation crusher bucket MB Crusher BF70.2 S4 and began to recycle concrete, masonry and rubble.
"The three generations of MB Crusher buckets coexist perfectly – said the Bavarian company- and represent the main spark of our development toward new job opportunities and profitability".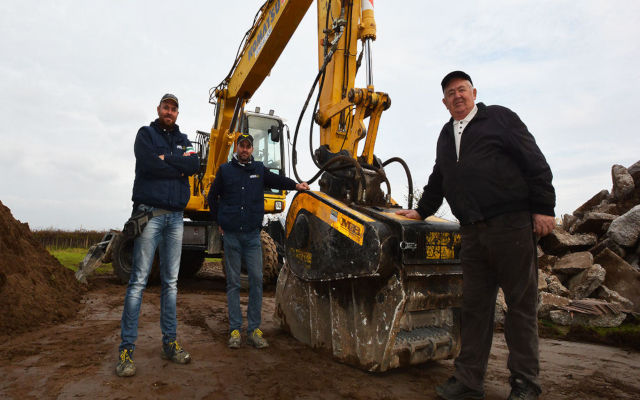 The third example takes place at the General Scavi & Trasporti HQs in Verona.
It all began in 2007 when the company bought an MB Crusher, jaw crusher bucket BF90.3 to be used in volumetric reduction tasks. In 2009, when they added new wheeled excavators to their fleet, they went for the smaller MB Crusher, jaw crusher bucket BF70.2.
"There is no difference in terms of strength and productivity – says General Scavi & Trasporti - all points proved at work in the yard: the BF70.2 has been working for 7 years, it crushes without fail resistant concrete blocks and mixed material and it is still absolutely reliable".
Since its first patented crusher bucket, MB Crusher has transformed many job sites: from a work area of "transit", into an independent operating center with high performance and profitability. Who takes credit for this breakthrough? The right attachments: MB Crusher units are designed to be at the service of the jobsite and of the workforce with the specific aim to optimize workload, expand opportunities, reduce timing.
And when new models come out? MB Crusher Production Director has no doubts: "Our goal has always been to make lasting units with unaltered production performances. Our fleet of machines and accessories is constantly improving, and we are proud to say that almost all the units we made are still in action to date. The 'new' is not created to replace the 'old' but to join force and respond in a personalized and winning manner to the customer needs and the market requirements".
Each MB Crusher unit is engineered and built to be reliable and durable, as well as to enter into action immediately and also require little maintenance. To the "vintage" and still in use units, MB has added new products such as the screeners, the grapples and the drum cutters, latest and advanced models that offer clients the opportunity to expand their markets and manage new job opportunities.
"We'd like to emphasize that our products have grown along with our customer's necessities – concludes Diego Azzolin - because they have been designed to make them competitive, even ahead of the rest of the market. We create a bond not only for the products but also of trust, 24/7 assistance, every day, for the whole world".
MB Crusher, jaw crusher bucket BF120.4 has been working in Ljubljana for more than 10 years: no pension at the moment for this "old one" still in full swing.
In Germany, three generations of MB Crusher units coexist perfectly and represent the main spark towards new job opportunities and profitability for a successful Bavarian earthmoving and demolition company.
In Verona – Italy -, an MB Crusher BF70.2 entered the production cycle and has been working round the clock for 7 years crushing resistant concrete blocks.