Crushing at high altitudes
07-04-2017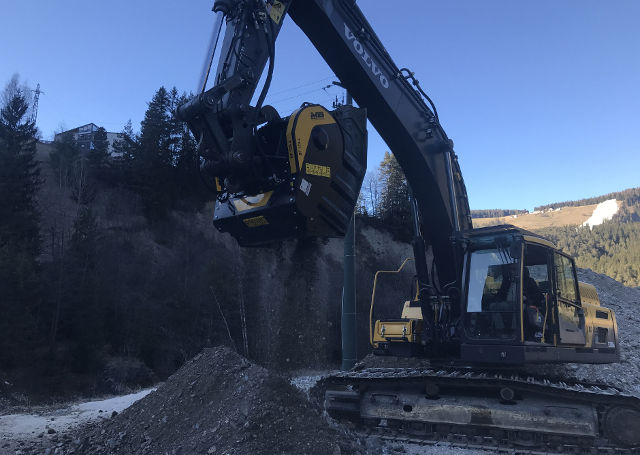 MB Crusher launches the fourth series of its BF120.4 crusher bucket
Only those who work up there know how difficult it is: we are talking about the mountainous areas of the Alps, in Italy, where the kilometres to go by lorry take longer than on level ground and where you have to know how to organise your construction sites very carefully; anything missing can take days, not hours, to get there.
It is an even more difficult environment for companies that work on the construction and maintenance of ski slopes and of the related infrastructure works; here the logistics are really extreme, the time window to work in is very short and there is therefore very little room for error.
Precisely for this reason, the equipment in the fleets is being used in all sorts of innovative ways to complete work which is very difficult to do with traditional methods. A perfect example of this "mountain creativity", is the crusher bucket which has just been delivered by MB Crusher to a company in Alta Badia specialised in the construction and maintenance of ski installations, which also has a great deal of experience in the earth-moving sector.
The MB crusher bucket, namely a BF120.4 in the brand new series 4, has therefore been reused, according to the sizes of the pieces obtained, in the company's various construction sites.
The ease of transport, and most importantly the fact that the MB crusher bucket does not require a dedicated operator (as per the traditional mobile crusher), were the key factors which led to their choice of equipment. Mountain regions are complex areas to reach with a traditional crusher, which not only requires special transport arrangements, but often cannot be physically transported in areas where crushing needs to be carried out without incurring huge costs. It is equally impossible or extremely costly to transport the material downhill to be crushed (and vice versa).
Other strengths of the BF120.4 Series 4 (which apply to the whole MB crusher bucket range) are: the low maintenance costs and the speed with which it can be put to work on-site, making it easier to crush even relatively small heaps of material.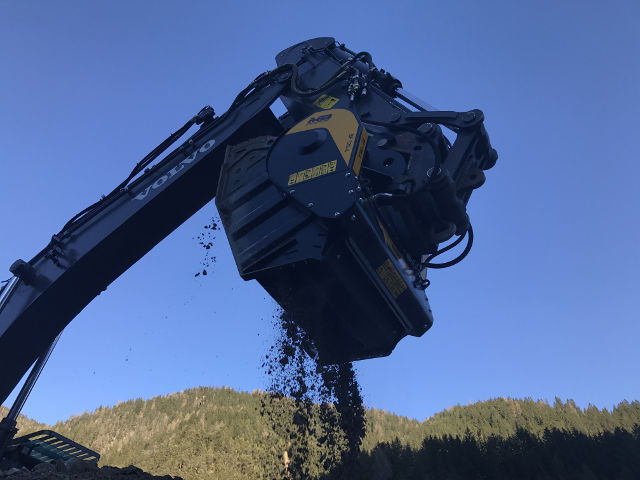 Fourth series: from good to better
With the fourth series of its BF120.4, MB has improved one of its products, the crusher bucket, which has an operating weight of 4.8 tonnes and can equip with diggers with operating weights from 30 tonnes and over. MB Crusher has increased the production capacity of its BF120.4, which is now able to reach a maximum production of 53 cubic metres per hour, with a load capacity of 1.3 cubic metres; the BF 120.4 S4 has been simplified and now has a new centralised lubrication system and lower maintenance costs.
New adjustment options have also been introduced that increase the range of sizes available (from 15 to 145 mm). The bucket has also been strengthened where needed; the result? Greater durability and shock-resistance, therefore a longer service life and, consequently, increased profitability. Finally, a decisive factor in defining the productive efficiency of the crusher bucket (which works with an oil flow rate of 210 litres per minute) was the upgrade of the structural layout, which allows for faster speeds when handling crushing operations.