New pedestrian bridge to link Coronationville and industrial west townships
09-03-2017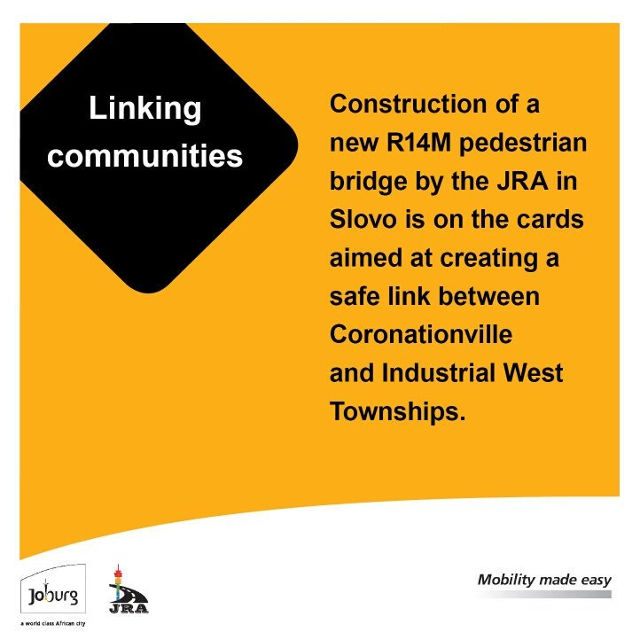 The Johannesburg Roads Agency (JRA) aims to build a new pedestrian bridge in Gauteng's Slovo Park informal settlement.
The bridge is part of a comprehensive JRA programme to revitalise road and stormwater infrastructure across Johannesburg.
It will be located at the end of Kelvin street intersecting Newclare road across the railway line joining Harmony road. The bridge aims to create a safe link between Coronationville and Industrial West townships by eradicating the current dangerous practice of pedestrians crossing directly over the railway line.

MB SOLUTION
MB jaws crusher buckets, screening buckets and drum cutters could be a very interesting solution to cut down the demolition and crushing costs in these kind of projects.
MB means solutions, innovations and versatility for crushing and recycling. Particularly useful in the most complex situations: small spaces, difficult access, steep slopes, urban areas and material with a lot of rebar.
MB Crusher crushing and screening attachments eliminate the need to transport to the dump or landfill of demolished material and simplifies the operations by eliminating trucking and hauling as well as reducing the costs associated with the new filling material.
MB hydraulic attachments are built to satisfy the requirements of the sector where productivity, performance and durability are essential. MB is the best choice for earthmoving works, demolitions, road construction, piping and recycling with the highest respect of the environment.