MB Crusher, innovative and customized solutions
13-04-2017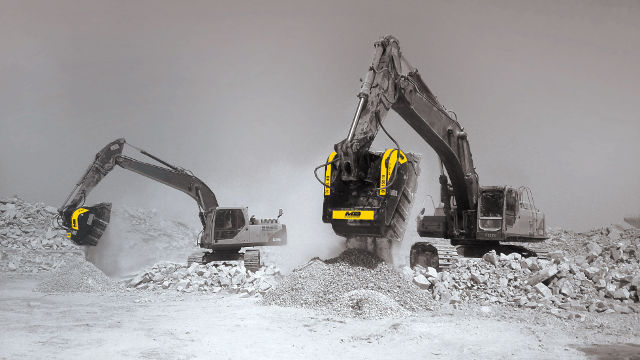 MB Crusher is a leading Manufacturer of equipment, machinery and accessories for the construction, demolition and recycling industries.
Applicable to any type of excavator, loader, skidloader and backhoe loader, MB products are the most effective means in constructions and excavations, but also in special applications such as quarries, mines and environmental rehabilitations, for crushing, screening and separating inert materials directly on site to reuse it or allocate it to other uses.

MB machines are an ever-expanding range of products strictly certified, whose use reduce costs, processing times and transportation of materials, while contributing to the environment.
MB Crusher provides not only best products and service, but also innovative and customized solutions for payments, in order to help its customers to get the right solution for their yards.
MB Crusher products represent the best solution in many projects, such as the Zimbawe's Beitbridge to Chirundu Highway project.
(click on the name of the project for more information)

MB Crusher range:

- Crusher Buckets
Perfect for on-site crushing of inert materials, this equipment is suitable from building demolitions in general, to the requalification of former industrial and urban areas to the processing of excavation materials, from the earth movement sector to road works, from quarries to mines, from environmental reclamation to applications on rocky soil.

- Screening Buckets
Designed for the screening and selection of natural materials, both before and after the crushing phase, the MB-S Screening Buckets reduce crushing times by up to 60%, consequently allowing you to salvage materials suited to the type of job being carried out, and to manage them in the best way possible.
Finds application in recycling, pipelines project, foundry, natural stone cleaning, river stones and beaches cleaning, mines and quarries for material primary selection.

- Grapples:
Designed for selecting and handling demolition materials and conceived according to the highest technological standards for any types of materials in a reliable way, with constance and total safety. Thanks to the interchangeable claws and the 360 ° hydraulic rotation it allows you to handle large loads and odd forms.

- Drum Cutters:
MB Drum Cutter MB-R is suitable for concrete wall and surface profiling, trenching, rock excavation, demolition and dredging and for any use in urban areas and also on restricted jobsites.