How to use a drum cutter to dig 2.2 meter dip
27-03-2020
Work in residential areas is complex.
Lack of space and resident security are some of the issues to address when water mains need upgrading in Brodarica, Croatia.
How is the process streamline?
A compact 9 tons excavator can move through the small pathways between houses and private gardens. The MB Crusher drum cutter MB-R500 can grind with precision and fast the limestone, despite the presence of existing pipes. The preparation phase for replacing the underground water mains in this town is undergoing, residents continue to live in the building during the pipeline renovation and the job is keeping the time scheduled.
A MB-R500 cutting head mounted on a 9 tons Takeuchi can move with ease through the small alleys and grind the tough limestone to the 2.2 meter dip needed to lay the new pipes.
And what about the presence of the old pipes?
No problem. Control, low vibration and compact size are some of the plus of the MB-R500 drum cutter.
The MB-R500 is the smallest rotary cutter of the MB Crusher's line, it weighs only 300kg and its powerful grinding head has a diameter of 500mm. Precision is the reason why it could rapidly grind the road surface in Brodarica avoiding the existing pipes.
In fact, tapping the road surface with an hammer proved to be unfeasible due to vibrations, and excessive time frame needed to do this job. With the MB Crusher rock grinder MB-R500 they:
reduced vibration, the unit unique design improves balance and drastically reduces the strain on the excavator arm, eliminating impact vibrations;

grinded with ease and control even the hard limestone, this model can be equipped with a power transmission kit, to increase the milling force;

moved freely even if the roads are only 2 meter wide, it swirls through houses and private gardens.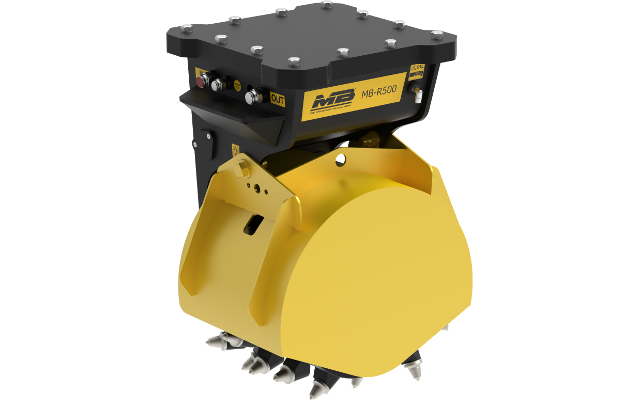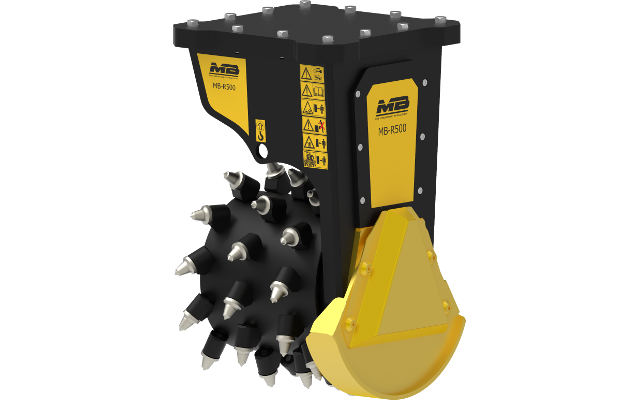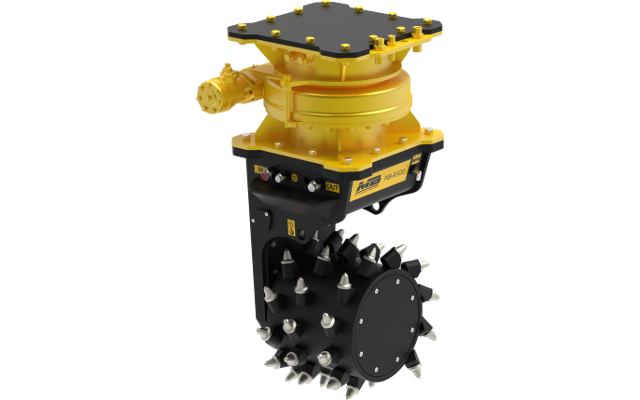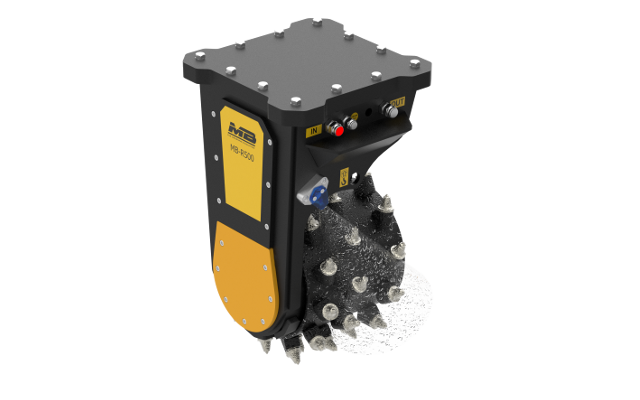 The MB-R500 milling drum has several accessories that can be chosen based on the task ahead.
If working in enclosed spaces, or in busy roads then the drum cutter can be equipped with a drum cover kit to reduce dust emission and stones jolting away. When milling is required to a specific depth then the cutting depth adjustment kit is the right accessory to use.
Each job site is difficult, but in seafront holiday residential areas like Brodarica village, extra attention in selecting the right tools must be paid. People staying in this area demand peace and quiet, and it is very important to do the job in the smallest amount of time possible: all of MB Crusher units respond to these demands.
They are designed to perform while keeping the noise down, to have a high production rate even in the most compact models, and a dust suppression kit can be added in order to keep dust level low.