Where is the Crusher Now? Do Not Disturb
22-01-2019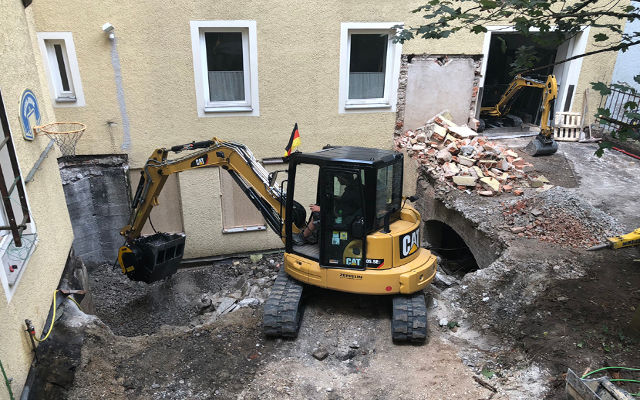 The MB-C50 crusher bucket at work in the Bavarian residential area.
[Plant&Equipment, January 22 - 2019]

At 45 Franziskaner Strasse in Munich, during the war, people fled to shelter in neighbouring buildings, escaping via underground tunnels, to avoid being stopped in the streets. Some of these tunnels were built as early as 1700.

Today the galleries and tunnels are still there, underneath modern buildings, houses, shops, that more often now, need to expand in order to accommodate new tenants or new businesses.

Already crowded city centres cannot spread outside, there are streets, parking bays, sidewalks and generally little space. So the courtyard is the only available choice.
This happened at number 45, where the German company Stöger Baggebetrieb, took on this civil renovations and began to build an extension by demolishing part of the inner courtyard moving on to build new foundations.

The biggest challenge was to safely manage the construction site, in a short time and without disturbing the neighbourhood. [...]

Please find the complete article in the major dedicated portals here below: