Travelling through Vaca Muerta site in Patagonia
01-07-2019
MB Crusher screening buckets working at the Argentinian gas pipeline of Vaca Muerta
"Several screening buckets can be seen at the Añelo and Vaca Muerta sites. As the companies that deals with pipelines have them, all branded MB Crusher. We didn't see any others."
It is with this Mauro Ortiz statement, from the company CISA Construcciones in Neuquén, Argentina, that we begin our long journey through the Vaca Muerta pipeline construction sites.
Vaca Muerta gas pipeline
Vaca Muerta, in Argentine Patagonia, is one of the largest unconventional reservoirs of "shale oil" and "shale gas". It is here where a huge gas pipeline network is being built for a length of more than 1.000 km to increase the development of the vein and ensure the infrastructure necessary to the increasing production in the national distribution network.
It is a majestic job, where saving time, money and machinery makes the difference.
We took a tour of the various sites to meet the companies at work and saw a common denominator: they are using MB Crusher units, in details the screening bucket MB-S18, to select material and reuse it to fill the excavation trench.
The journey
"We have been using MB Crusher products for more than 5 years – says Marcelo Guth, President of Servicios Santa Monica, in Añelo – on average we produce 400 km of trench every year and even if we own a stationary screening plants, the 80% of the work we do is with the MB screening bucket, as it is more practical to use and allow us to achieve high-performance level".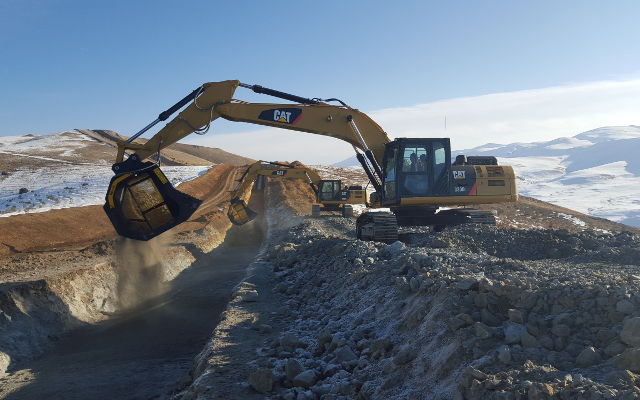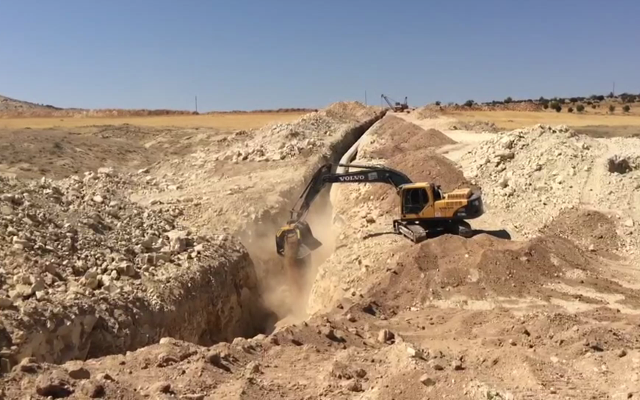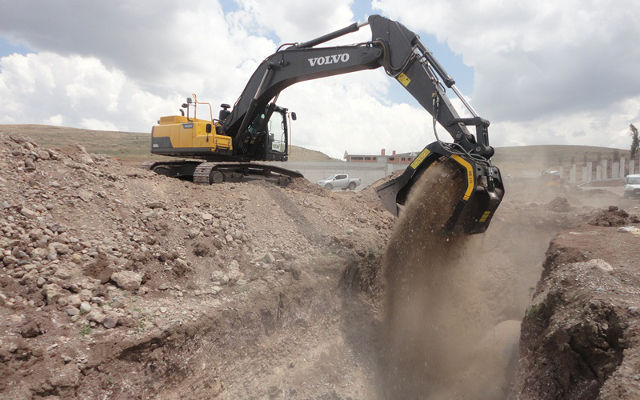 MB Crusher screening bucket has many advantages:
- it is transported together with the heavy equipment, thus reducing transport costs;
- the material is sifted directly into the trench, making the process so easy;
- maintenance is easy and fast to do.
Undeniable time and money savings stated Alejandro Road stafrom the company EDVSA - Electrificadora del Valle S.A. dI Neuquén: "With the MB Crusher screening bucket, we reduced material transport to the site by 4/5 trips daily. We use what is available in loco and we screen it on the pipes. We save on purchasing. We actually do it ourselves."
It is not only savings. It is also about getting quality materials.
Gustavo Mauad, GM of Mauad, highlights "we obtained great productivity, MB Crusher performance is outstanding"
Even Techint Ingenieria y Construcción of Neuquén state that "MB screeners are versatile. You attach them to the excavator and just a single operator by itself can do the job, while other types of machinery need more staff. They are practical to use and transport, with easy and fast installation."
We present the key players of this journey:
Gustavo Mauad
Empresa MAUAD
Leandro Herrera y Vicente Ferreira
Empresa Techint Ingenieria y Construcción
Alejandro Roa
EDVSA - Electrificadora del Valle S.A.
Ing. Mauro Ortiz
Cisa Construcciones Industriales
Lucas Salatic
Empresa Victor Contreras
Juan Daniel Nievas
Temis S.A.