A crushing evolution: Interview with Mr. Verdon Tan, director of Asia-Ton Machineries Sdn. Bhd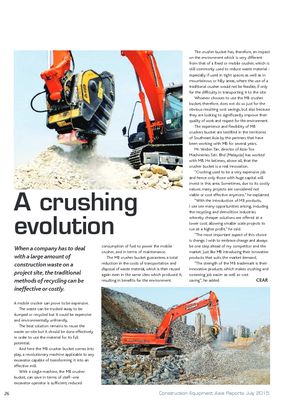 Magazine: Construction Equipment Asia Report
A mobile crusher can prove to be expensive.The waste can be trucked away to be dumped or recycled but it could be expensive and environmentally unfriendly.The best solution remains to reuse the waste on-site but it should be done effectively in order to use the material for its full potential.
And here the MB crusher bucket comes into play, a revolutionary machine applicable to any excavator capable of transforming it into an effective mill.
Mr.Verdon Tan, director of Asia-Ton Machineries Sdn. Bhd (Malaysia) has worked with MB. He believes, above all, that the crusher bucket is a real innovation.
"Crushing used to be a very expensive job and hence only those with huge capital will invest in this area. Sometimes, due to its costly nature, many projects are considered not viable or cost effective anymore," he explained.
"With the introduction of MB products, I can see many opportunities arising, including the recycling and demolition industries whereby cheaper solutions are offered at a lower cost; allowing smaller scale projects to run at a higher profit," he said.
(.......)